From Cienfuegos to Pinar, "Vara" and his Loves
From Cienfuegos to Pinar, "Vara" and his Loves
Imagen principal:
"I've been told that you are the man who works the most here and I want to interview you," I told him when we finally managed to locate him in Herradura (the land of Mijaín López, which is perhaps beside the point, but since we are talking about big people, I mention it).
He answered me right away: «Those who really work are my subordinates; I guide them, lead them, I take care of them, that's what I do».
His ETECSA colleagues call him "el Vara" and as soon as I saw him, I understood why: he is tall and thin, perhaps he was a little more so 54 years ago, when he started working in communications:
"I started as a lineman, then as a brigade leader, then as a repairman, and I moved up until they gave me this mission of leading the troops in recoveries and every breakdown that takes place."
And without a hint of bragging, partly because he is modest as only the best usually are, and also because they are always unfortunate circumstances, he recalls: «Since 1998 I have been working in all hurricanes recoveries, including the one that crossed over Granada in 2004, I spent like 50 days there.
Are you tired? Crazy questions that pops on people's minds: «No way, man. Men get tired when they die; while they are alive, they can't get tired. I will be working as long as I can, until my body holds». From this point on, no one will be surprised that Montes de Oca is proposed to be distinguished as a Labor Hero of the Republic of Cuba, a "thought" that has already reached his ears, but he doesn't care much about it: "I don't worry about credit."
Juan Matías Montes de Oca Suárez arrived in Pinar del Río on September 28th, right after Ian, and there he was on Saturday, October 22, doing his thing, unhurriedly, but missing his wife: «She always says that her friend loneliness accompanies her».
Actually, El Vara couple has overcome a few distances: «apart from all those missions, I had a long one in Havana, acting as support there from 2001 to 2004, I had already been there before from 1989 to 1992. I also spent two years in Angola, almost two in Nicaragua».
He has already been married for 42 years and you can see in his smile the seasoned love, against all odds; however, he cannot deny us the coexistence of another long and deep love:
«I was a peasant who only knew how to plant tobacco and cut cane, I'm from Escambray, tobacco was also planted there. That was the only thing I knew how to do, and in 1967 I entered the army in a communication unit. That was where I started as a communicator and to this day I have done nothing else. That changed my life, I love communications.
It was this feeling that took him this time from his native Cienfuegos to the westernmost province of Cuba and there he felt at home: "here we have made a strong work team with the Head of the Center, with the Head of Operations; a team that has allowed us to restore this municipality in record time. We have worked at a good pace. This is a collective effort, with the colleagues from the Electricity Company we also collaborate, there are many places where we've been supporting their networks, we have planted electric poles and gave them some space, we have all cooperated.
«As for the neighbors, I have to tell you that we have reached places, like in Puerta de Golpe, which is a small town of humble people and families that the only thing they have is a small ranch because the house was torn by the hurricane; at the moment they have come with a small cup of coffee; Want some water? There isn't any cold, but straight from the tap... We have had unconditional support from the people of Pinar del Río. The people of Pinar del Río are really supportive, they deserve all the help we are giving them."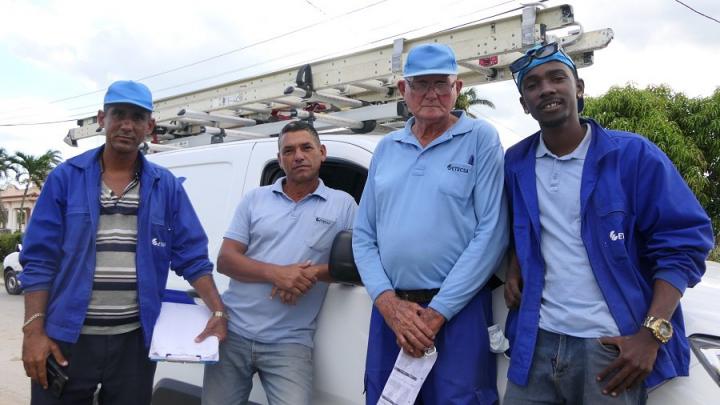 El Vara is surrounded by young people: «something that characterizes me is that I like working with young people. Many of them fresh off the University who have started in this company have come around. There are some who started with me as lineman, specialists, and today they are masters, they are bosses with large training and experience in communications. The youth needs guidance, knowledge. When you have to scold them, scold them; when you have to yell them, yell them... I quarrel with them, I tell them a few things if I have to, but later I through my arm around their shoulders, I'm not a person of resentment or holding back things I need to say or anything of the sort. Not everyone has the gift of teaching. I like it, what little I know about this I like to pass it and that my colleagues use that knowledge».
He offers them advice everyday: «The first thing to be a good operator is that you like and love communications. He who doesn't feel this way and doesn't do it that way, from the heart, he will never be a good communicator. The ones just coming for the pay day will never be a good communicator. We among young people have many who really like it, what you have to do is guide them, lead them, stand by their side, help them solve their problems, whether they are work or family problems. Because it's no less true that today we undergo harsh times and if you don't support them to make their way, we will never have good workers, good communicators.