30mn Africans may come to Europe within next 10 years – EU parliament chief
30mn Africans may come to Europe within next 10 years – EU parliament chief
Imagen principal:
Protracted violence, civil wars and poverty may force up to 30 million Africans to come to Europe within the next 10 years, posing new security challenges to the continent, says the newly-appointed president of the European Parliament.
Europe must now tackle two greatest challenges, namely, terrorism and migration, with both phenomena being interconnected, Antonio Tajani, an Italian politician appointed president of the European Parliament in January, told Die Welt.
"The so-called Islamic State [IS, formerly ISIS/ISIL] seeks to embed terrorists with refugees," he said. "They explain them that it's now quite easy to carry out an attack in a European state using a knife or a car."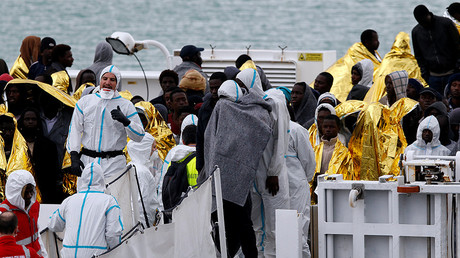 Unless defeated militarily, IS "will do everything to confront Europe as their number one enemy," Tajani argued, adding, terrorists "are coming to the European Union via all routes," particularly through the Balkans.
However, even more significant challenges lie ahead, Tajani continued, listing increasing calamity in Africa as the primary cause for concern.
"Africa finds itself in a dire situation – agriculture shrinks because of desertification, Nigeria and Niger are suffering from poverty, and Somalia is marred by chaos and civil war," Tajani stated.
"If we fail to resolve the central problems of African nations, 10, 20 or even 30 million migrants will come to the European Union in the next 10 years."
To prevent this scenario from happening, Europe must pour billions worth of investments and "develop a long-term strategy," Tajani said. Otherwise, "Africa risks becoming a Chinese colony, but the Chinese need only natural resources, they're not interested in stability."
The comprehensive interview comes on the heels of the so-called 'migration summit' held between European and North African interior ministers in Rome last week. One year after a controversial refugee deal with Turkey to stem influx of migrants crossing the Aegean Sea to Greece, the EU is now seeking to reach a similar pact with war-ravaged Libya, despite intense criticism from human rights groups.
During the Rome meeting, ministers discussed a proposal to intercept migrants before they reach international waters and deliver them to camps in Libya.
"The aim is to govern migratory movements" rather than be governed by them, said Italian Interior Minister Marco Minniti, according to AFP.
Commenting on the issue, Tajani championed an idea of establishing "collecting camps protected by the UN and European military," which he discussed with Filippo Grandi, the incumbent UN High Commissioner for Refugees.
He claimed that such "makeshift towns with hospitals and facilities for children" would meet basic human rights standards and ensure that migrants "do not fall in the hands of human traffickers or die in the desert or at sea."
Meanwhile, Germany, the principal destination for most asylum seekers, is stepping up diplomatic efforts to stem migrant flows to the continent as part of what Berlin calls a 'Marshall Plan for Africa'. Responding to domestic criticism of her migration policy ahead of the looming elections, Chancellor Angela Merkel recently visited Egypt and Tunisia in search for more cooperation in accepting failed asylum seekers returning from the EU.
According to Merkel, Berlin wants to curb migration by fostering economic development in North Africa and beyond.
"Only when there is overall development can the pressure for flight and for expulsions be overcome," she Merkel told the Munich Security Conference in February.