Ziuganov confirms to Lazo that Russian communists support Cuba
Ziuganov confirms to Lazo that Russian communists support Cuba
Imagen principal: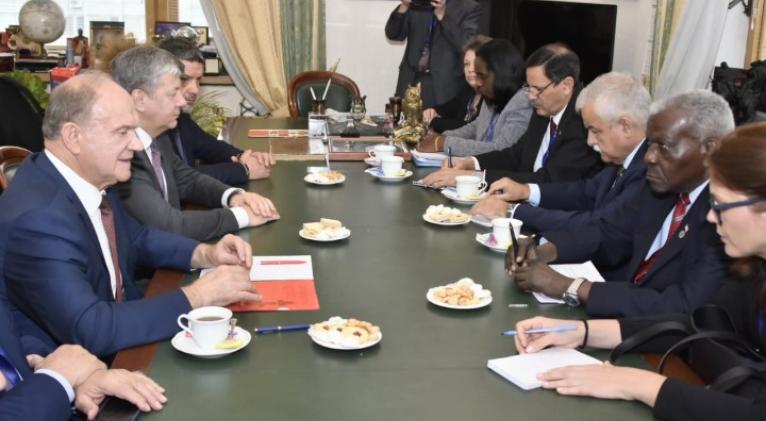 The support to our Cuban friends is one of the main tasks of the Russian communists, stressed today the president of that group, Guennadi Ziuganov, when receiving the leader of the Cuban legislative body, Esteban Lazo.
Solidarity with Cuba is already a tradition of the Communist Party of the Russian Federation ( CPRF), said Ziuganov to the president of the National Assembly of People's Power of Cuba (ANPP-Parliament), Prensa Latina reported on Monday.
He also pointed out that a group of deputies from the communist faction were the promoters of the Russia-Latin America Parliamentary Conference, which was so successfully held in Moscow.
Lazo also thanked for the possibility of the meeting, and said that he took the opportunity to participate in the Forum, to meet with the leader of the Russian Communists, and to convey greetings from Army General Raul Castro, President Miguel Diaz-Canel and Prime Minister Manuel Marrero.
He stressed that the Conference provided an opportunity to review some aspects of the economic and trade relations with Russia, as well as to closely follow the fulfillment of the agreements between the two countries.
Lazo also thanked the CPRF leadership for its constant support in advancing bilateral relations at the political, economic and commercial levels, and explained that progress had been made in the reordering of state credit.
'The situation is very complex and difficult on the economic plane, because U.S. imperialism is carrying out an offensive with the aim of suffocating us and putting an end to the Cuban Revolution, but we will not let ourselves be defeated.
Fidel Castro and history taught us how to win', he stressed.
Finally, Ziuganov expressed the support of the CPRF, and promised to work for the fulfillment of the agreements and commitments agreed between the two nations.