Venezuelan President Maduro Meets With Latin American Leaders
Venezuelan President Maduro Meets With Latin American Leaders
Imagen principal: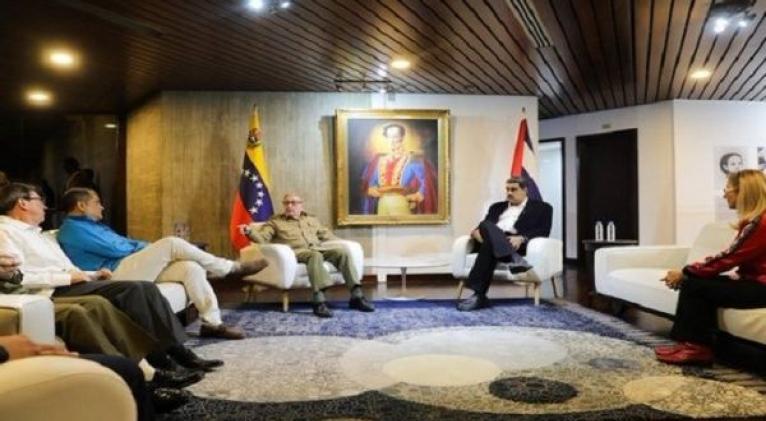 On Sunday, Venezuelan President Nicolas Maduro met with former Cuban President Raul Castro and former Ecuadorian President Rafael Correa, who traveled to Caracas to attend tributes to Commander Hugo Chavez on the occasion of the tenth anniversary of his death.
This meeting was also attended by Deputy Prime Minister Ramiro Valdes, Cuban Foreign Affairs Minister Bruno Rodriguez, the United Socialist Party of Venezuela Vice President Diosdado Cabello, and Venezuelan First Lady Cilia Flores.
Prior to the meeting with Maduro, Castro and Correa evoked Commander Chavez during the closing session of the World Meeting on the Validity of the Bolivarian Thought of Hugo Chavez in the 21st Century.
In the morning, Castro, Valdes, and Rodriguez paid tribute to Chavez at the La Montaña Barracks, where the remains of the Venezuelan revolutionary rest.
Besides holding a meeting with Bolivian President Luis Arce, Maduro also spoke with Nicaraguan President Daniel Ortega. These high-level meetings strengthened the ties between the leaders of nations that belong to the Bolivarian Alliance for the Peoples of Our America-Peoples' Trade Treaty (ALBA-TCP).
Next, the Venezuelan president met with the Dominican Republic's Prime Minister Roosevelt Skerrit and with the Saint Vincent & the Grenadines Prime Minister Ralph Gonsalves. Maduro spoke with them to expand the map of cooperation between these Caribbean countries.
On Sunday, Maduro also received former President Manuel Zelaya, who is the husband of Honduran President Xiomara Castro. Xiomara Zelaya, one of the daughters of the former Honduran president, was also present at this meeting.