Patricio Wood: "Octavio, my father in art"
Patricio Wood: "Octavio, my father in art"
Imagen principal: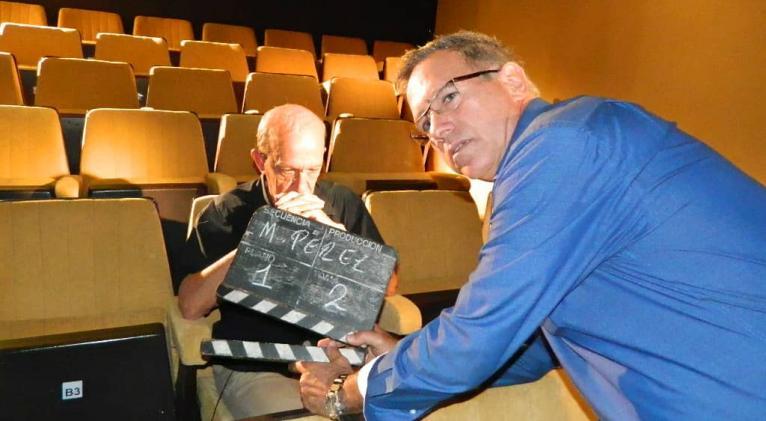 Renowned Cuban actor Patricio Wood was recently honored with an award bestowed by the Culture Circle of the Union of Cuban Journalists, following his documentary "This is Octavio's Life," a tribute to the late filmmaker.
The proposal navigates through different moments in the life of filmmaker Octavio Cortázar Jiménez (1935-2008), director who treasures major art works such as "Por primera vez (First Time)" 1968, "El Brigadista (The Brigade Man) 1977," "Guardafronteras (Coast Guards)" 1980, "Derecho de Asilo, (Right to Asylum)" 1994, and "Soy como soy (I am what I am)" 2003.
Patricio Wood, who received word about the news during the 43rd edition of the International Festival of New Latin American Cinema in 2022, offered exclusive statements to the Cuban News Agency.
—When did the filmmaking process of This is Octavio's Life started?
—By the end of 2021, when the country was facing a very tough situation due to COVID-19. Actually, it was the first documentary taken on by the Cuban Institute of Cinematographic Art and Industry at that time.
The project was actually comprehensive and aimed to showcase a more personal side of the protagonist, such as his private and family life, but circumstances made us turn to a more professional approach.
I just believe that Third World's filmmakers do the sort of films that they can, not what they dream about.
The filmmaking process ended in January 2022 —a few days before Cortazar's 87th birthday—, and the timing was perfect so the documentary could compete in 2022 film festivals.
—How did the idea of carry on this initiative pop up?
—I was always interested in getting to know better about the past life of Octavio, and especially, the ingredients that molded that man of singular character. But he never gave me a clue.
One day, during the shooting of Guardafronteras, I asked him about his origins and told me very seriously: Why do you want to know about that, Patricio? Then, I just found out that he had endured a very difficult and traumatic childhood, from the family perspective.
After his death, visual artist and filmmaker Pedro García Espinosa gave me a cassette with a life interview Octavio granted to him and eventually, journalist Virgen Gutiérrez had the same gesture with me.
I found myself like a keeper of his work and with all these information, I unleashed a meaningful research that could well end up in a book, instead of a documentary. I do not rule out this idea since I still have undisclosed information at hand.
—How was your relation with Octavio Cortázar?
—Actually, we had a very good relationship since I was a teenager and he chose me to play a leading role in El Brigadista. He was the one who open the doors of cinema to me.
Octavio and I maintained a strong friendly, honest relationship. He became my father in the art world and I trusted myself a lot because I knew he was there.
No doubts, he was very demanding and gave much importance to training, which was explicitly showed in the documentary "El onceno maestro (The eleventh master)" 2007, a tribute to the legacy of educators in his family.
Generally speaking, he was a very peculiar filmmaker who knew how to communicate with the audience and understood the sort of cinema filmmakers should do in Cuba.
—Is this the first time you take on the responsibility of directing in cinema?
—Luckily, this is not the first time I lead a project in the seventh art.
There are two potential enemies for filmmakers and they are: excess and lack of information. So it was complicated from the handling of interviews to choose and select data to the shooting amid the pandemic.
However, the most important thing is to fall in love with what you are doing. Everything lays in the love you put on things and how much you are committed to them.
I worked a lot. But I was happy.
Patricio Wood (1961) has worked in either films, theater, and television from the very beginning of his professional career. Hence, he has become one of the iconic actors in Cuba.
He has played roles in other movies like "Che" (1996), "Últimos días en La Habana (The Last Days in Havana) 2016," and "Ciudad en Rojo (Red City) 2007."
Likewise, he is worthy of recognitions such as the Distinction for National Culture (1986), the Radio Festival Performance Award (1987), the Replica of the Mambí machete used by Máximo Gómez bestowed by the Ministry of the Revolutionary Armed Forces (1988), the Caricato Acting Award (2003) and the 20th Anniversary Medal of the Hermanos Saíz Association (2006).
He recently completed the shooting of the season three of the youth series "Calendario" with a very controversial character, and an episode of the popular police crime drama "Tras la huella," both TV series to be broadcast soon.
Translated by Sergio A. Paneque Díaz / CubaSí Translation Staff