Poll: More than 1 in 4 U.S. Citizens Would Leave if Trump Wins
Poll: More than 1 in 4 U.S. Citizens Would Leave if Trump Wins
Imagen principal:
More than one-quarter of U.S. citizens would consider moving to another country if presidential Republican front-runner Donald Trump wins the November elections, according to a new poll carried out by Vox/Morning Consult.
About 12 percent of the respondents surveyed answered "somewhat likely," while 15 percent said that it was "very likely" they would leave the U.S. should Trump win in November.
The poll revealed a sharp political partisan split among those surveyed. The Vox poll found that 49 percent of liberals described themselves as very or somewhat likely to consider leaving the country if Trump were elected, with 30 percent picking "very likely." This compared to 12 percent of conservatives who said they were very or somewhat likely to consider the option.
Breaking down the survey results by race, 25 percent of white respondents answered that they would consider departing from the U.S, whereas 53 percent of Latino respondents responded that, yes, they would consider moving.
Meanwhile, after Trump's dominant victory on Super Tuesday earlier this month, Google announced that the search "How can I move to Canada?" spiked 350 percent as results came in showing wins for GOP the presidential front-runner.
@GoogleTrends Search interest in 'Trump vs Clinton' spiked with yesterday's #primaries. #election2016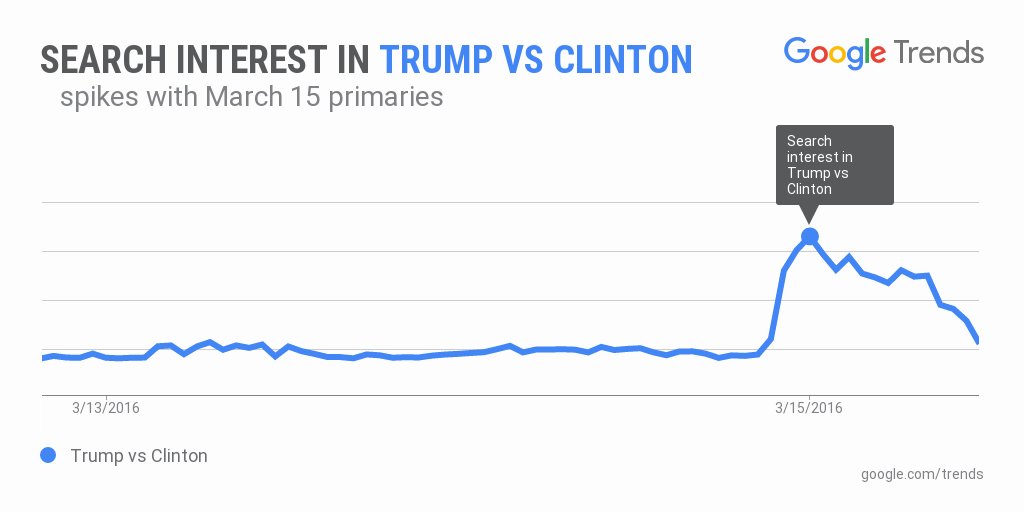 Billionaire businessperson Donald Trump won the crucial Republican primary contest in Florida on Tuesday evening, increasing the odds that he will not win the 1,237 delegates he needs to secure the GOP nomination outright over the Governor of Ohio John Kasich and Senator Ted Cruz.