Rihanna reveals second pregnancy in spectacular Super Bowl halftime show
Rihanna reveals second pregnancy in spectacular Super Bowl halftime show
Imagen principal: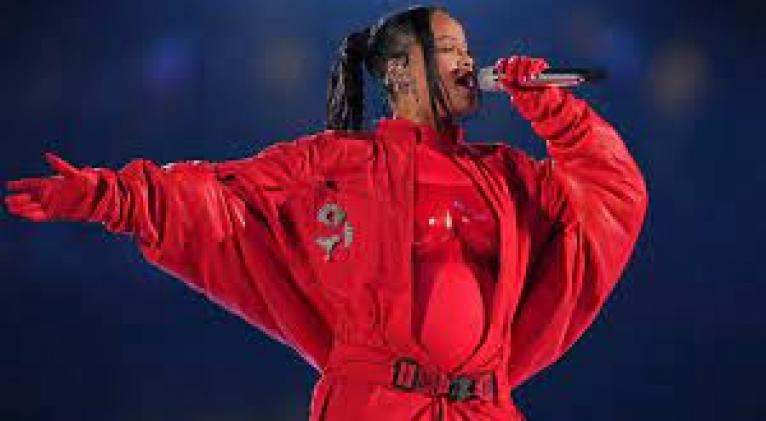 Glendale, US, Feb 13 (EFE).- After seven years away from the stage, Rihanna returned Sunday with a spectacular Super Bowl performance in which she revealed her second pregnancy, becoming the first pregnant woman to headline the halftime show.
At the State Farm Stadium in Glendale, Arizona, the Barbadian singer started her show from a raised glass platform where, dressed in head-to-toe in red – including a jumpsuit, bodysuit, bandeau, gloves and shoes – she rubbed her baby bump, a gesture with which she blew up social media.
A representative of the artist confirmed to US celebrity publications that Rihanna is expecting her second child with rapper ASAP Rocky. They welcomed their first child in May 2022.
Just last Thursday, the 34-year-old Grammy winner said it was motherhood that gave her the strength to accept the challenge of taking on the halftime performance slot at the NFL final, a show even more popular than the game itself.
"When you become a mom, there's something that just happens where you feel like you can take on the world – you can do anything – and the Super Bowl is one of the biggest stages in the world," she said at a press conference in which she was sitting in a bulky jacket and it was not possible to see that she was pregnant.
Her performance at the Super Bowl, in which Kansas City Chiefs beat the Philadelphia Eagles, marked the return of the pop star to the stage after seven years dedicated to her makeup line Fenty Beauty.
Rihanna brought pop music back to the stage, following last year's rappers Dr. Dre, Snoop Dogg, Eminem, Mary J. Blige and Kendrick Lamar.
Accompanied by dozens of dancers all in white, the singer revived her greatest hits on a spectacular stage made up of floating glass platforms high above the ground.
Suspended above the 50-yard line, she opened with "Bitch Better Have My Money," before moving on to hits such as "We Found Love" and "Work."
She saved "Umbrella" and "Diamonds" for the final bangers as she soared again on an elevated platform, and waved goodbye to the audience with a fireworks display.
Bradley Cooper, Paul McCartney, LeBron James, Jason Derulo, Billie Eilish and Adele were among the celebrities who enjoyed the concert from the stadium stands.
Model Cara Delevingne wore a T-shirt with the message "Rihanna concert interrupted by a football game, weird but whatever."
The Weeknd (2021), Jennifer Lopez and Shakira (2020), Maroon 5 (2019), Justin Timberlake (2018), Lady Gaga (2017), Coldplay (2016), Katy Perry (2015), Bruno Mars (2014) and Beyoncé (2013) round out the list of recent Super Bowl performances. EFE