Dayramir: "I have become a better musician thanks to Jazz Plaza"
Dayramir: "I have become a better musician thanks to Jazz Plaza"
Imagen principal: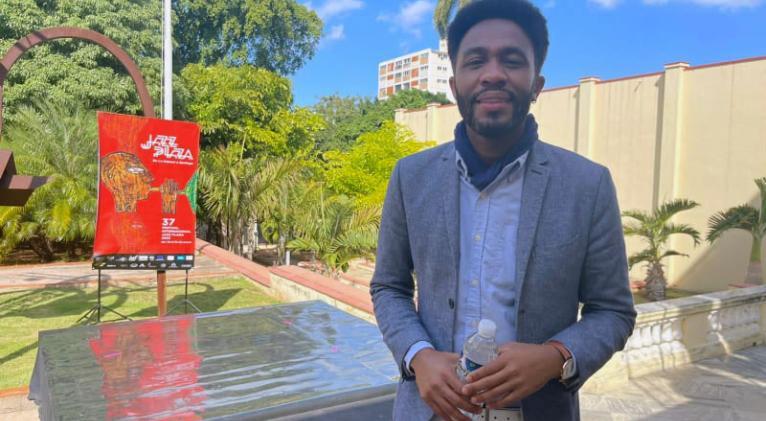 This virtuoso Cuban pianist has returned from New York with an immense pride of his origins and training. While talking to the press in the context of the 2022 Jazz Plaza Festical, Dayramir González stated:
"When I was at ENA (National School of Art) I had the opportunity to be invited to play at Casa de la Cultura de Plaza and I have improved along with the Festival. I have been performing in the Festival since I was 16 years old and it has always been a wonderful platform where young artists have been always invited and trusted."
Later, in exclusive interview granted to CubaSí, he told us about the exchanges he experienced with young students of arts education:
"So far, it has been for me the most rewarding moment of my stay here in Havana. On Monday, I was at the Amadeo Roldán Music School; on Tuesday, at ENA (National School of Art), and then I visited ISA (Higher Institute of Art). It was gratifying to be with the young people, wonderful feedback, going back to the school where I studied and being able to go back. Many of the things that I have been learning in New York, all the harmonic, cultural, counterpoint experience, how to study, how to prepare a study routine...We talked about all these with the young students because they have to be motivated that way."
In his opinion, Cuban musicians' potentials, especially pianists, are huge. And he confirmed so to journalist Joaquín Borges Triana:
"It is impressive. We are blessed with the fact that Cuban pianists have a great knowledge, and not only about jazz. We, the musicians, are lucky to play jazz and bebop the same way American black musicians play. Cuba is blessed because we have Congolese, Beninese, and Nigerian blood in our veins; we have the Haitians with their French Drum; we own the distinctively Cuban rumba; the classic music with the European training we are taught here…
"When we talk about a Cuban musician, we are talking about an all-around artist from the language, training point of view. And I am, as a Cuban cultural, social ambassador, aware of that. I know I have a huge responsibility on my shoulders, which is to exalt the virtues of Cuban piano worldwide."
And that is what Dayramir is doing there at the Big Apple and worldwide. He is showcasing the Cuban music his own way and with a lot of heart. The perfect example is his upcoming album Tributo a Juan Formell y Los Van Van, which is to be released next Saturday:
"This is a wonderful album, where I wanted to take Los Van Van out of the comfort zone. It is an album where I was aware of wanting to work with Los Van Van, but from the composer perspective. We made wonderful versions. There is a track that perhaps young Cubans do not know so much, which is called Tu decision cual es. This is a song that had no lyrics, so it was the perfect pretext to make it jazzy."
"There is a lot of Cuban tradition on it," warned the author at a press conference, and later he added to CubaSí: "There is a wonderful approach to Los Van Van's music, but with many influences from Benny Moré, Jorrín, Duke Ellington with his Big Band, Mozart, Beethoven, the European classical music. There are a lot of wonderful colors there, which you are going to listen to and I hope you like it."
He has come to Cuba with New Yorkers' musicians for the first time. With them, he performed at Bertolt Brecht's Sala Tito Junco and Teatro América on Friday. Both live concerts gave us the opportunity to witness first hand his most recent album: "The Grand Concourse," a wonderful CD, which has opened a lot of doors for him. "This is the music I have been composing for the last four or five years."
Translated by Sergio A. Paneque Díaz / CubaSí Translation Staff