Table tennis, still an Olympic sport for Cuba
Table tennis, still an Olympic sport for Cuba
Imagen: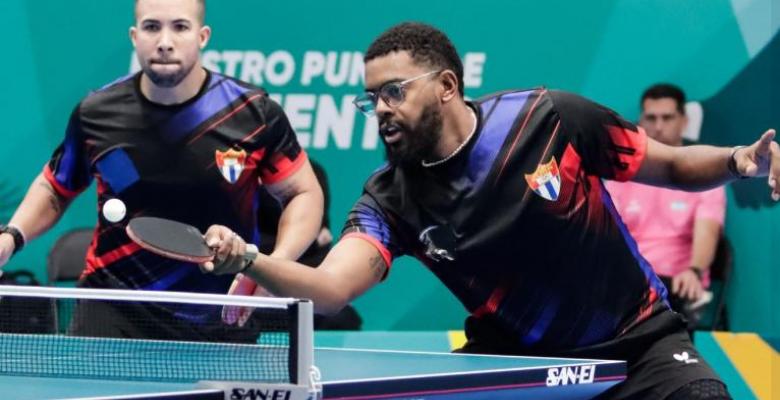 When sports with greater tradition in Cuba are just missing the Olympic Games, table tennis has checkmarked its presence for Paris 2024, thanks to really good performances at the Pan American Games held in Santiago de Chile.
The same duet that competed in Tokyo 2020, mixed-duet Jorge Moisés Campos and Daniela Fonseca, filled us with joy when they reached the finals in their category.
However, they believed it was not enough and the following day, the earned an unexpected gold medal. I say unexpected because it was not envisioned in any prediction. The Cuban table tennis was expected to win just two bronze medals, in both men's and the mixed team, according to Bárbaro Oliva, head of the Cuban Table Tennis Federation.
But we, as usual, had to wait until the very last day of competitions.
This mixed duet broke the ice with this gold medal, earned against the Brazilian couple of Bruna Takahashi and Vitor Ishiy. Actually, our team faced more trouble against the teams of Chile and Argentina. They swept the Brazilians in four straight sets.
A gold medal exceeded expectations, but two gold medals? A second title was achieved by the duet of Jorge Moisés and Andy Pereira against Brazil (Hugo Calderano and Vitor Ishiy). The final score was 4-2. No other duet won more than two sets against the Cubans.
Expectation rose in the team category after Jorge Moisés and Andy's title, but they lost to the U.S. duet. They won in the double category and Andy won in the individual category, but youngster Adrían Pérez lost twice as well as Jorge Moisés against Nandan Naresh, so they lost any hope to move on from round one.
The expectation with the Cuban women team was really low. They lost to Puerto Rico.
The team members said: two golds! That's enough and great! Not at all, Andy Pereira was determined to qualify for the Olympic Games. His outstanding silver medal, first for Cuba in the individual category in the history of table tennis, guaranteed him his ticket to Paris 2024.
Cuba will be represented, for the first time ever in Olympic Games, by three table tennis players. However, there will be another Olympic qualifier in March, next year, where Cubans may achieve some other ticket to Paris 2024. Am I crazy? Some said the same to me in Santiago de Chile, and hey, do not believe me, just watch.
Translated by Sergio A. Paneque Díaz / CubaSí Translation Staff