Foreign Ministers from Cuba, Panama review common ties and challenges
Foreign Ministers from Cuba, Panama review common ties and challenges
Imagen principal: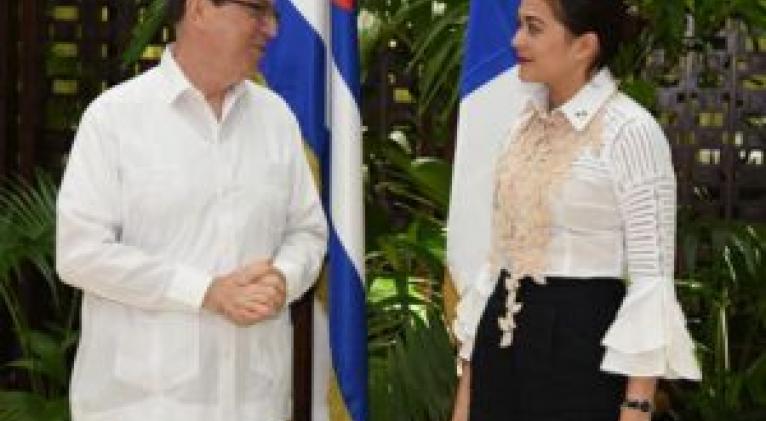 Cuban Foreign Minister Bruno Rodriguez spoke on Monday with his Panamanian counterpart, Janaina Tewaney, about the historic and fraternal bilateral ties, as well as the two countries' common challenges.
After welcoming him in the protocol room of El Laguito, in this capital, the Cuban foreign minister highlighted that in the midst of adverse international circumstances, the two countries find opportunities to strengthen bilateral ties.
He highlighted the intense agenda of the Panamanian delegation since its arrival on Saturday, which included a meeting with President Miguel Diaz-Canel on Monday, and participation in the closing of the 5th International Meeting for the World's Balance.
Tewaney, for her part, appreciated the warm welcome to Cuba, where she said she felt at home.
She conveyed a greeting from the Panamanian people and affirmed that she brought a message of brotherhood, in addition to ratifying the importance they attach to relations with Cuba and, through it, with the Caribbean.
The head of Panamanian diplomacy stressed her country's interest in strengthening trade ties, as well as unity in the Latin American region, starting from the presidency of the G-77, held by Cuba.
On Monday morning, the Panamanian foreign minister paid tribute to National Hero Jose Marti at the statue dedicated him at the 13 de Marzo Park, in Old Havana.
She also toured the historic center of Havana and the Eusebio Leal Spengler House, a visit about which she twitted that "Panama will always be grateful for having had the ability and willingness of the teacher Leal to share knowledge and good practices in support of our Casco Antiguo."
Tewaney also talked about the cultural exchange between the two nations in terms of dance, during a meeting at the Lizt Alfonso Academy.
"We promised that these programs increase their frequency for the benefit of both countries," she said in this regard on the same social network.
The day before, she spoke with Casa de las Americas President Abel Prieto, with whom she discussed the possibility of generating cooperation opportunities of cultural interest focused on indigenous peoples, Afro-Caribbean culture, and the participation of women in politics.
Tewaney is accompanied by Minister of Commerce and Industry Federico Alfaro, and her agenda in Cuba included a meeting with Cuban Minister of Foreign Trade and Foreign Investment Rodrigo Malmierca.
Both countries have around 25 agreements in force, an aspect that will surely be part of the next meeting of the Joint Cooperation Commission as, according to the Panamanian Foreign Ministry, the organization of said meeting and the Political Consultation Mechanisms are part of the issues to be addressed during this visit to Cuba.