Cuban women under the spot of ALBA boxing
Cuban women under the spot of ALBA boxing
Imagen principal: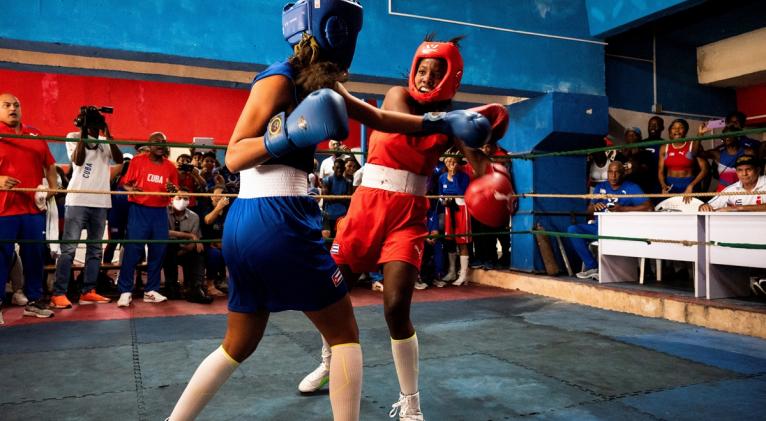 Cuban women are training fast here to take part in the boxing tournament of the 5th ALBA Sports Games Venezuela 2023 from April 21 to 29, in what will be their first performance in an international ring.
Six Cuban fighters will see in action at the Cancha Paz in La Guaira, one of the three venues of the multisport event that will host approximately 3,500 athletes from 11 countries, including Russia as guest country.
Reynabell Grant (50 kg), Lianet Gómez (60 kg), Arianne Imbert (66 kg), and Yakelin Stornell (75 kg), as well as Idamelis Moreno (54 kg) and Legnis Cala Maso (57 kg) will go down in history as the first Cuban women to compete in an international competition after the official introduction of boxing for women on the island on December 17, 2022, according to JIT magazine.
"They are well prepared and will put on a good show. The objective is to assess their performance with a view to the Central American and Caribbean Games of San Salvador 2023," their head coach Santiago Suarez, was quoted as saying by JIT.
According to the coach, Stornell is the most advanced with international experience, as she priorly represented Cuba as a wrestler and won several medals in Pan American competitions.
The ALBA boxing competition will take place from April 22 to 27 in the comfortable Cancha de Paz (Peace Court), which is part of the Venezuelan Government's national strategy of the Great Mission "A toda vida Venezuela" (Venezuela at full life), designed to fight back violence and other social evils by atracting young people to practice and enjoy sports.
Sportsmen and women attending this fifth edition of the ALBA Games, which the Venezuelan government is rescuing after 12 years without taking place, come from Antigua and Barbuda, Bolivia, Cuba, Dominica, Grenada, Nicaragua, St. Kitts and Nevis, St. Vincent and the Grenadines, and St. Lucia, plus the hosts and the Russian guests.