Cuban Culture in Digital Media Event to start on November 10
Cuban Culture in Digital Media Event to start on November 10
Imagen principal: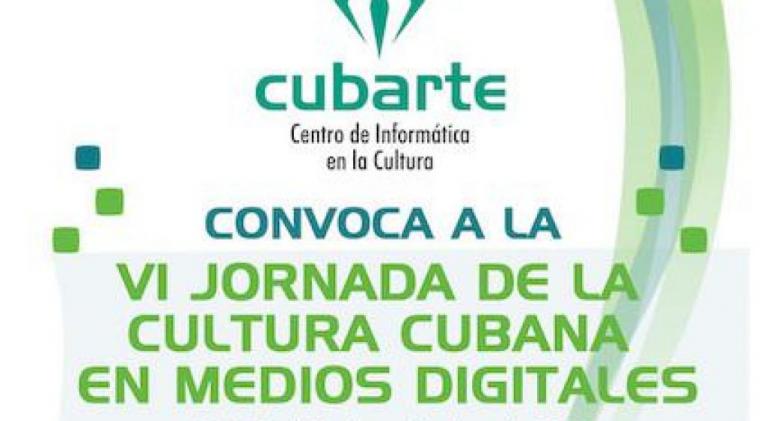 The 6th edition of this event will start on Tuesday, November 10, 2:00 pm, with the debate about La informatización de la sociedad cubana, through several presentations: Nuevos servicios en línea de cara al ciudadano cubano, the result of computerization projects called by the Ministry of Communication and the Joven Club de Computación (Computer Youth Clubs); ¿Se socializan los contenidos culturales digitales? ¿Cómo?, by the Jose Marti Cuban National Library and Ediciones Cubarte.
The following day at 2:00 pm, the event continues with El video juego  ¿arte para el  usuario?, with the presentation of materials by ICAIC  Animation Studios titled Sagua, la aldea embrujada, Superclaria, La Chivichana, and 4 rollos y 1 película.
Cultural journalism and new experiences in Cuba will be the theme approached on November 12 with the presentation La hipermedia, una nueva gramática para el usuario conectado, by Professor Milena Recio and the first Transmedia project by the Cinema International School.
Next will session a panel of visual arts professors and artists called by Iván Soca that will debate La fotografía digital ¿arte? Su importancia para el periodismo, and afterwards and based on the experiences of Fábrica de Arte Cubano, the Cuban University of Arts and the Fine Arts National Museum, discussions will focus in the challenges of the Community Manager in Cuba.  
During both days and from 1 to 4 pm, those interested will be able to download films, books, music and children videogames free while a group of multimedia products will be on sale.
On November 13, 10:00 am,  will be presented the 2015 Palma Digital Award  in the categories of Portals and thematic Websites specialized  in cultural themes; Blogs and Personal Sites of cultural profile; Digital Cultural Publications; Radio and TV in the Web; Mobiles Apps that socialize historic-cultural contents and Desk Multimedia Apps.
Each winner will receive a Palma Digital Award, a serigraphy from relevant Cuban artist Manuel López-Oliva entitled Máscara con Palma, a certified diploma and a digital stamp to be signed in the products that deserve this condition.
Cubarte will offer the possibility of free web hosting for one year or reproduction, publication and promotion, according to the case, to those awarded works.  
Those interested in obtaining more information about the 6th Cuban Culture in Digital Media Event, please access www.jornada.cult.cu
Translation: Liana Fleitas (Cubarte)