'Gaza is on the edge': Emergency aid appeal launched
'Gaza is on the edge': Emergency aid appeal launched
Imagen principal:
The Disasters Emergency Committee (DEC) said "even before the conflict began the people of Gaza were close to breaking point." They called on the public to make charitable donations to aid those blighted by the conflict.
The appeal is being launched after hundreds of thousands of people fled their homes with many needing not only shelter but food, water, household items and often medical care. There are now 65,000 people in Gaza who have seen their homes severely damaged or destroyed.
"After four weeks of terrible fighting Gaza is on the edge," said DEC Chief Executive Saleh Saeed. "Over half a million people have been forced from their homes, and one and a half million people have no or very limited access to water or sanitation.
"Many people are living in terribly overcrowded UN shelters, but they still need food and basic household items which we take for granted. Many are in urgent need of medical care, but hospital supplies are almost finished."
DEC member agencies are rapidly increasing the level of assistance they are providing. Some agencies have worked through the fighting despite the considerable risks involved, and others have responded when and where lulls in the fighting allow.
Oxfam is delivering safe water to up to 175,000 people a day, while the British Red Cross is supporting emergency medical services. The DEC say urgent funding is required to maintain these efforts and extend them further. Saeed said they are relying on the generosity of the British people to make a difference in Gaza.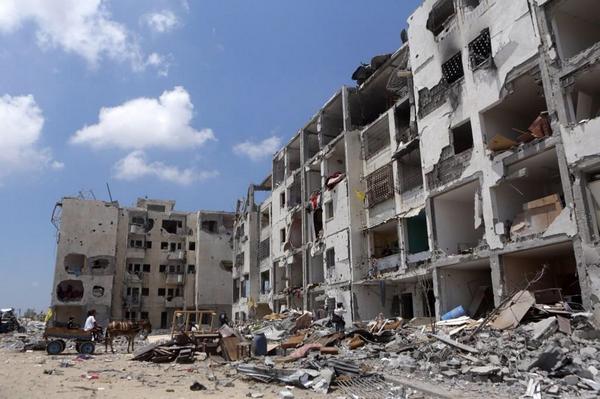 Nearly 30% of Gaza's pop. is now displaced, inc. 65,000 whose homes are damaged beyond repair
The death toll in Gaza has hit over 1,800 since Israel launched operation Protective Edge on July 8. The international community is pushing the sides to a ceasefire as world opinion rallies against Tel Aviv's operation.
The Palestinian information ministry claim that 10,080 houses have been targeted, of which 1,556 have been fully destroyed, while 8,424 have been partially damaged. It also believes 24 health centers, including hospitals and medical clinics, have been partially damaged. Eight water pumping and sewage stations have been bombed and destroyed in Gaza, affecting some 700,000 Palestinians.
Several UK MPs have called on Prime Minister David Cameron to use his leverage to persuade Netanyahu's government to soften restrictions on the movement of Palestinians in the Gaza Strip. This follows the resignation of Foreign Office minister Baroness Sayeeda Warsi on the basis she could "no longer support" the government's policy on Gaza.
The Commons International Development Committee has also urged Cameron to call for improvements in the supply of basic electricity and water services to the region.