Almost 1,000 dead since east Ukraine truce - UN
Almost 1,000 dead since east Ukraine truce - UN
Imagen principal: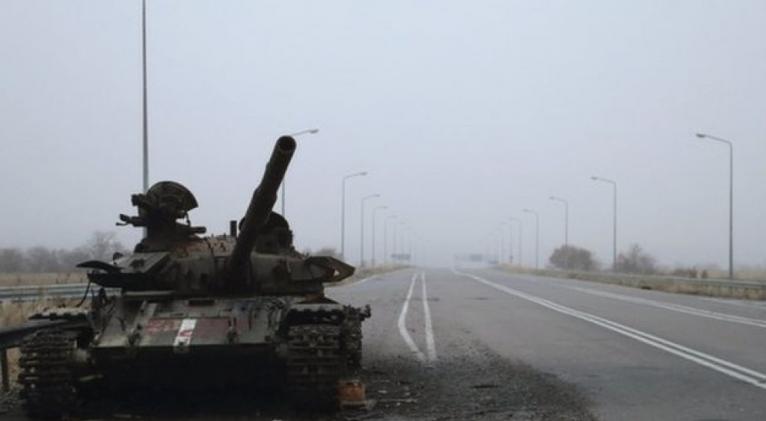 In the eight weeks since the truce came into force, the UN says 957 people have been killed, amid continuing violations on both sides.
A new report by the office describes a total breakdown of law and order in rebel-held Donetsk and Luhansk.
It also highlights credible allegations of abuses by government forces.
Russia has been widely accused of fanning the violence by covertly supplying the rebels with military aid - an accusation it denies
Ukrainian Prime Minister Arseny Yatseniuk accused Russia on Thursday of seeking "deliberately to provoke a large-scale war". The actions of Russian President Vladimir Putin, he told a news conference, were a "threat to everyone, the global order, global peace".
Separately, President Dalia Grybauskaite of Lithuania, a Nato state and EU member, described Russia as a "terrorist state" in a radio interview.
Meanwhile, President Putin told a meeting in Moscow that the "wave of so-called colour revolutions" (popular uprisings this century in Ukraine, Georgia and Kyrgyzstan) had yielded "tragic consequences".
"For us this is a lesson and a warning," he told the Russian Security Council. "We should do everything necessary so that nothing similar ever happens in Russia."
Human cost of conflict in east Ukraine
4,317 deaths since April, 957 of them since the 5 September ceasefire, and 9,921 people wounded
466,829 internally displaced persons within Ukraine
454,339 refugees living abroad, 387,355 of them in Russia
UN data from 18 November
'Total breakdown'
Conflict broke out in eastern Ukraine last April, when the government in Kiev launched an operation to recapture areas seized by pro-Russian rebels, after Russia annexed Ukraine's Crimea region.
Since the conflict began, nearly 900,000 people have fled their homes, of whom nearly 400,000 went to Russia, the UN said in its new report, which covers the period up to 31 October.
The new casualty figures, contained in a UN press release dated 18 November, record that a further 9,921 people have been wounded in the conflict areas.
Of the 957 people killed since the ceasefire 119 were women, the UN says. In all, at least 4,317 people have been killed since the conflict erupted in April, it estimates.
In its actual report, the UN refers to a "total breakdown in law and order, and a lack of any human rights protection for the population" under rebel control in the Donetsk and Luhansk regions.
It notes that "cases of serious human rights abuses by the armed groups continued to be reported, including torture, arbitrary and incommunicado detention, summary executions, forced labour, sexual violence, as well as the destruction and illegal seizure of property".
Such abuses, it said, "may amount to crimes against humanity".
The human rights situation is directly affected, the UN says, by the large amount of weapons and the foreign fighters "that include servicemen from the Russian Federation".
Ukrainian government forces and volunteer militias fighting the rebels have been also been accused of human rights abuses such as illegal detention, torture and ill-treatment, the report says, noting official denials.
It also calls for a full investigation into the use of cluster bombs in the conflict. The Ukrainian government was accused by Human Rights Watch last month of using such weapons in residential areas, an allegation it denied.
Under fire
As part of the truce signed in the Belarusian capital, Minsk, monitors from the European security body, OSCE, were to observe the eastern areas and the borders with Russia.
The monitors themselves complained they had come under fire on Wednesday, from uniformed soldiers operating near a government-held area.
Two shots were fired at the OSCE convoy near Mariinka, 15km (9 miles) west of Donetsk, from a distance of 80m, the OSCE said, but no-one was hurt.
An OSCE spokeswoman refused to speculate on whether Ukrainian government soldiers had been to blame.