Silva Could Win Brazil Vote afterRrunning Mate's Death
Silva Could Win Brazil Vote afterRrunning Mate's Death
Imagen principal: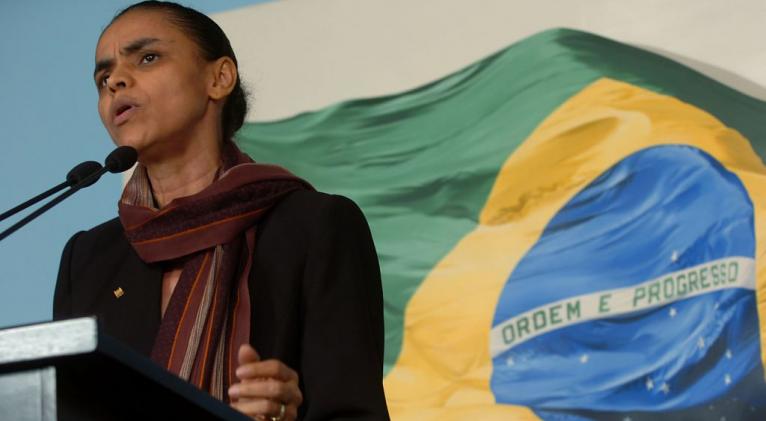 Environmentalist Marina Silva could unseat incumbent Dilma Rousseff in Brazil's presidential elections in October, a poll found Monday, reflecting an altered political landscape since Silva's running mate was killed in a plane crash.
Silva, a 56-year-old former environment minister, has moved into second place ahead of the October 5 first-round vote and would defeat Rousseff in an October 26 runoff, the poll by Datafolha found.
It was the first poll taken after Socialist Party candidate Eduardo Campos's death in the August 13 plane crash.
Silva was Campos's vice presidential running mate, and is widely expected to be chosen to replace him at the top of the ticket when party leaders meet in Brasilia Wednesday.
The poll found Silva had 21 percent support against 36 percent for Rousseff and 20 percent for Social Democrat Aecio Neves.
In a runoff vote, Silva would defeat Rousseff 47 percent to 43 percent, it found.
The incumbent, however, would beat Neves 47 percent to 39 percent if they faced each other in the second round.
Campos had been in third place, polling at about eight percent, before his campaign jet crashed en route to Sao Paulo, killing all seven people on board.
The Datafolha poll was carried out August 14 and 15 -- the two days following Campos's death -- and has a margin of error of two percentage points.
It also found Rousseff's approval rating had risen from 32 percent to 38 percent.
Silva had been considered a top contender for this year's race after surprising many pundits by coming third in 2010 with 19 percent of the vote running on the tiny Green Party's ticket.
But she opted to join forces with the affable, politically connected Campos and his more-established PSB party for this year's vote.
With her compelling personal story and broad-based appeal, she could be even more effective than Campos at selling the PSB's message of change after 20 years of government by Rousseff's Workers' Party (PT) and Neves's PSDB.
Born into a poor family of rubber tappers in the Amazon, she only learned to read and write at 16 years old, the start of a meteoric rise to become a figurehead of the country's environmental movement.
An evangelical Christian, she appeals to both religious conservatives and the left.
The campaign officially kicks off Tuesday, when candidates begin taking to the airwaves to pitch their platforms.