Colombian Government Ready to Talk with ELN for Complete Peace
Colombian Government Ready to Talk with ELN for Complete Peace
Imagen principal: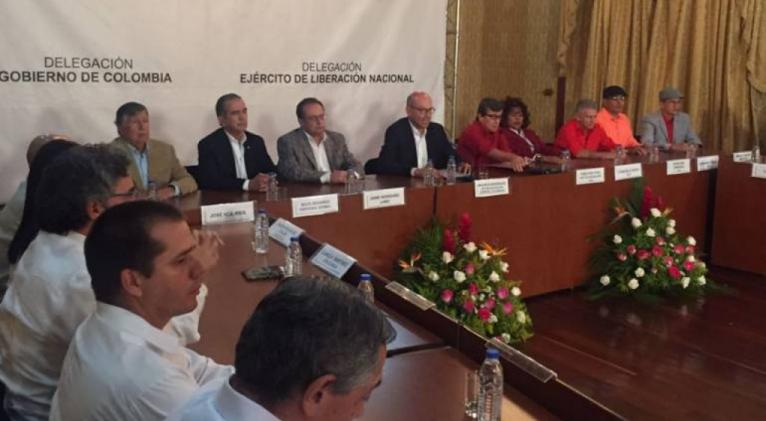 Bogota, Jan 12 (Prensa Latina) The Colombian government has expressed its willingness to begin formal talks with the ELN with the promptness and seriousness demanded by the country, an option that both sides are exploring in Ecuador since today.
Responding to a letter sent by supporters of the negotiations with that insurgent movement, the head of the government spokesmen, Juan Camilo Restrepo, ratified the willingness of dialogue of the current administration, but insisted on the release of former congressman, Odin Sanchez, who is in the hands of that group.
According to the minister, both delegations of spokesmen are preparing in the Ecuadorian capital the joint meeting that could happen tomorrow, Colombian news reports said.
We arrived in Ecuador to continue the exploratory phase, we are convinced to make every effort to start this dialogue with the seriousness and promptness demanded by the country, Restrepo said in a statement released here.
The Executive and the National Liberation Army (ELN) announced in Caracas on March 30 their decision to begin such rounds of meetings, but there is no timetable for the meetings up to now.
This is a less numerous guerrilla than the FARC-EP but have been equally active more than 50 years ago.
Shortly after the announcement carried out in Venezuela, President Juan Manuel Santos conditioned the establishment of that other negotiation table for Sanchez' release, while the rebel organization rejects any conditioning prior to the talks.
Such stances keep the talks at a standstill despite calls from religious people, politicians, victims and other figures of the national stage to open the planned appointments and achieve a full detente scenario after the signing of the peace accord with the Revolutionary Armed Forces of Colombia-People's Army (FARC-EP), which occurred on November 24.