Argentine Indigenous Leader Milagro Sala Hit With New Sentence
Argentine Indigenous Leader Milagro Sala Hit With New Sentence
Imagen principal: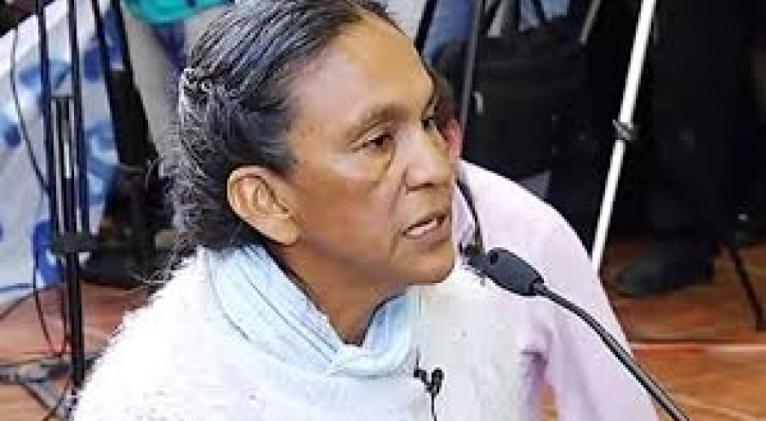 Milagro Sala, dubbed the first political prisoner of Macri's government, already received a three-year suspended prison sentence this week.
An Argentine court slapped a new sentence against jailed Indigenous leader Milagro Sala Thursday, just a day after she was handed down a three-year suspended prison sentence for being guilty of "aggravated damages" linked to a protest she led against the conservative government in her home province in Jujuy.
IN PHOTOS: 200 Days is Enough! Free Milagro Sala!
The Jujuy court issued Sala the maximum fine of 3,870 Argentina pesos — nearly half the monthly minimum wage of 8,060 pesos — and prohibited her from participating in any civic and political organizations for three years, the same term as her suspended prison sentence.
Sala was charged with a misdemeanor of "occupying public space, disorderly conduct and the obstruction of vehicle and pedestrian traffic." The court also ordered the Tupac Amaru organization that Sala leads to shut down its location in Jujuy.
Sala, who has been dubbed the first political prisoner of President Mauricio Macri's administration, was jailed last January after leading a 52-day sit-in against Jujuy governor and Macri ally Gerardo Morales.
She was initially detained on accusations of inciting mob violence with the occupation — a protest that was reportedly carried out in a peaceful manner — but was soon hit with a barrage of other charges of alleged corruption and illicit enrichment that kept her behind bars for months as investigations continued.
RELATED: Milagro Sala Trial: 'I Apologize for Being Black and an Indian'
The new three year prohibition of Sala's participation in social and political organizations extends until the end of Morales' term as the governor of Jujuy.
After being jailed for nearly a year, on Wednesday a court handed her three years probation with a suspended prison sentence.
Sala is the leader and founder of Tupac Amaru, a 70,000 member-strong organization inspired by the ideals of South American Indigenous liberator Tupac Amaru, revolutionary leader Che Guevara, and former Argentine First Lady Eva Peron, that works with Indigenous and poor communities on a number of political issues.
She is also a lawmaker with the parliament of the sub-regional South American trade bloc Mercosur, known as Parlasur, though her detention has blocked her from being able to fulfill her parliamentary duties.
The United Nations Working Group on Arbitrary Detention has slammed Sala's arrest as arbitrary, calling for her immediate release. President Macri ignored the ruling.
Social movements have also rallied behind Milagro Sala, demanding her release as well as freedom for other political prisoners.