Most Chileans voted to change the Constitution
Most Chileans voted to change the Constitution
Imagen principal: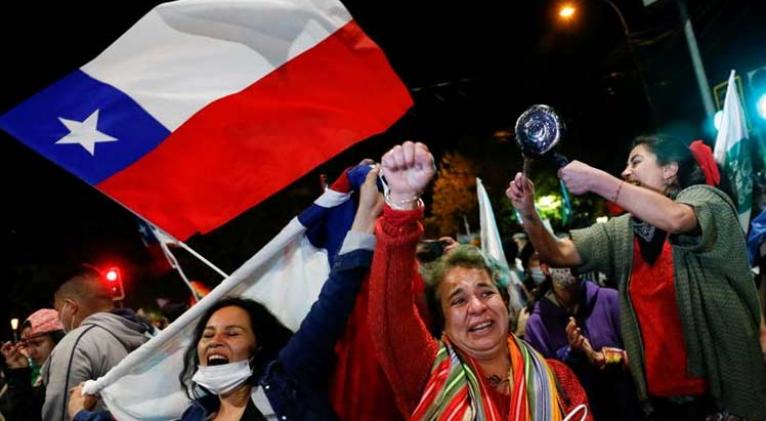 Chile lived a historical Sunday in which a majority of Chileans voted in a plesbicite to change the Constitution that dates back to dictatorship of late general Augusto Pinochet.
With 99.45% of the votes counted the option I Approve wins 78.28% over I Reject, 21.72%. Hundreds of thousands of people came out to the streets flooding the main squares throughout the country to celebrate an anxously expected victory.
The Electoral Service reported that 7.529.459 people turned out to vote on Sunday, the largest number ever since the electoral presidential of 1993.
In a second question in the ballots, the option Constitutional Convention won with 79% over the Mixed Constitutional Convention.
That means that the new Constitution will be drafted by a convention of 155 people, a process that will begin in 2021 and will last maximum 12 months. Once a text is a agreed upon, a ratifying plebiscite will be slated in which voting will be mandatory.
The convention members will be 100% elected by the people on April 11 next year, same date of the elections for mayors, councilmen/women and regional governors.
The composition of the constitutional convention will be 100% equal, that is, no gender may have more than 50% plus 1 of the body or, taking it to numbers, there may be a maximum of 78 elected men or women. In addition, special quotas will be set aside for native peoples.
Polling stations closed in Chile at 20:00 local time and the voting counting began right away. About an hour later, the Electoral Service announced that I Approve had won 86.43% by 13.57% in the voting among Chileans living abroad.
Some 60,000 Chileans residing in 65 nations were elligible to vote
In such vote, the option Constitutional Convention also won 86.11% over 12.41% the Mixed Constitutional Convention.