The Game Goes On: Peru's President Seeks Elections in October
The Game Goes On: Peru's President Seeks Elections in October
Imagen principal: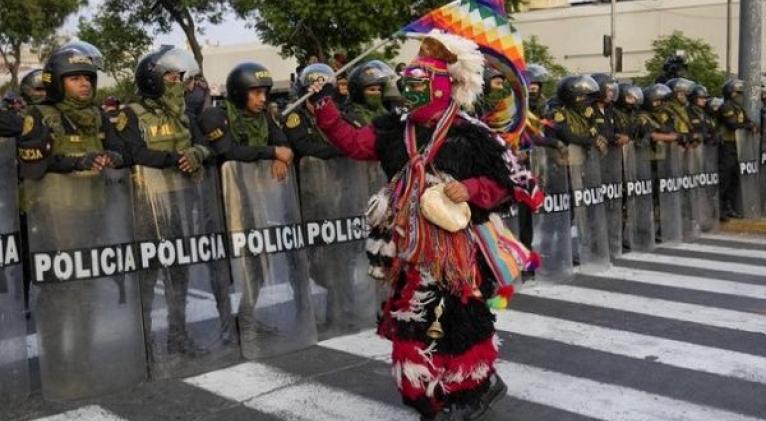 On Wednesday night, President Dina Boluarte sent a bill to the Peruvian Congress proposing the holding of early general elections in October. This initiative emerged after parliamentarians refused to hold elections in December.
"By constitutional mandate, the bill must be processed urgently," Prime Minister Alberto Otarola said, specifying that the first round of elections is expected to take place on Oct. 8.
The Ministers Council promoted this bill "in correspondence with the message of President Dina Boluarte, who warned on Sunday about the need to seek consensus in the country," Otarola said, emphasizing that Boluarte is not going to resign.
On Wednesday afternoon, however, parliamentarians refused for the second time to advance general elections to December, despite the fact that the Executive branch maintained negotiations with them for three days.
The tweet reads, "Yes we can, yes we can! Thousands of Peruvians firmly resist the repression in the capital city's downtown. When an injured person passes by, everyone applauds the brother who fell in the fight... Long live Peru, damn it! Long live the people!"
As a result of this new rejection, Congress President Jose Williams called a plenary meeting on Thursday to discuss once again the advancement of the elections and the holding of a popular consultation on a constituent assembly.
This new bill was presented by the legislator of the Free Peru party, Jaime Quito Sarmiento, who is trying to provide a way out of a political crisis that worsened on Dec. 7, 2022, when Congress removed Pedro Castillo from the presidency.
Since then, the Boluarte regime has kept Peru in a chaotic situation that has left 65 dead and hundreds injured. The population, however, continues to take to the streets and block roads.