Cuban president receives U.S. businessmen
Cuban president receives U.S. businessmen
Imagen principal: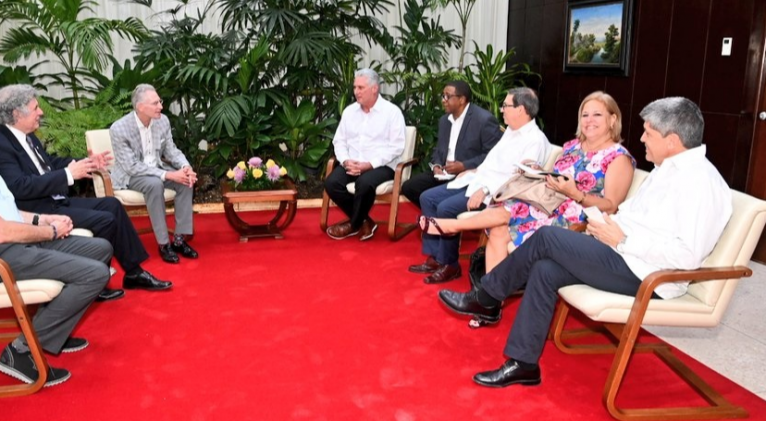 President Miguel Díaz-Cael today received the vice president of the U.S. Food Industry Association, Mark Baum, and the head of the Hope for Cuba Foundation, Jorge Ignacio Fernández.
The head of state informed through his Twitter account that in the meeting they talked about business potentialities between both countries and the impediments imposed by the economic, commercial and financial blockade imposed by Washington on the island.
The U.S. businessmen met last Monday with the president of the Cuban Chamber of Commerce, Antonio Carricarte, to whom they expressed their interest in establishing commercial ties with the Caribbean nation, particularly in the food sector.
Jorge Ignacio Fernández pointed out that his entity builds bridges with businessmen interested not only in trading with the island, but also in working on issues such as sustainable energy, and even with medical device companies interested in making Cuban vaccines.
Meanwhile, Mark Baum expressed his interest in getting to know the Cuban market to determine in which areas it is possible to collaborate, and also described the characteristics of the places he represents.
Both agreed on the effects caused by the U.S. blockade on Cuba and the inclusion of the island in the list of countries sponsoring terrorism, although they stressed that despite this there are small possibilities that should be exploited in favor of trade. (Source:PL)