Cuban economy falls 11% in 2020
Cuban economy falls 11% in 2020
Imagen principal: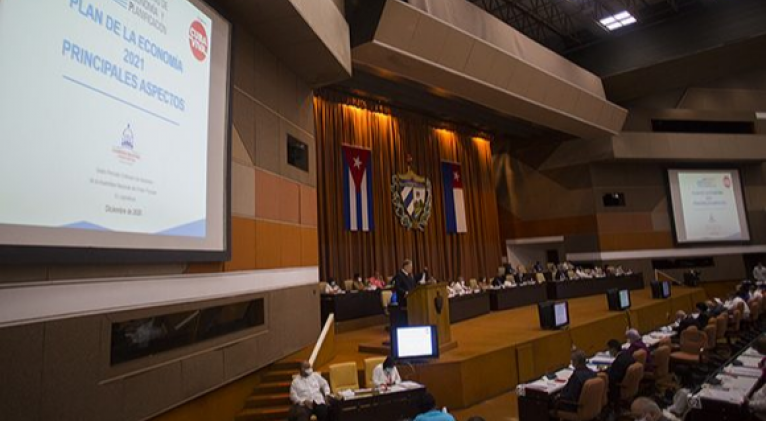 Cuba's Gross Domestic Product decreased by 11% in 2020 due to the strong contraction of foreign trade, the reduction of international tourism and foreign currency income, due to the effects of the COVID-19 and the reinforcing of Washington's blockade on the island.
Vice Prime Minister and Economy and Planning Minister, Alejandro Gil Fernandez,  told participants at the 6th Ordinary Period of Sessions of the National Assembly of People's Power on Thursday that it would take the next two years for the island's economy to recover from the sharp contraction.
Gil pointed out that the largest reduction occurred in the second quarter, a period in which sanitary, hygienic, and epidemiological measures to confront the pandemic began.
In the third and fourth quarters, he argued,  a gradual recovery of economic activity began, with the provinces' passage to the new normal and the implementation of measures to stimulate economic activity.
According to Gil, the drop in GDP is also affected by "the reduction in activity levels in the social sphere, with a significant weight in terms of the GDP structure.
Gil said a gradual recovery would begin in 2021 based mainly on a 50% increase in tourism to 2.2 million arrivals in 2021, compared with more than 4 million in 2019 and a devaluation of the peso and restructuring of the economy that would create better conditions for growth.
The Minister of Economy stated that 2021 will be a year of significant transformations.
On the other hand, he emphasized that the experience lived in the year that concludes "demonstrated the value of centralized planning.
"Cuba, under the intense blockade, has not stopped waiting for solutions to fall from the sky, because they simply will not," continued Gil Fernández in his address to Parliament.
"This year, we received just 55% of the hard currency we had planned," said Gil.
"It is worth asking ourselves how capitalism would react to this scenario, how we have been able to maintain vital resources. There have been no blackouts, no schools, hospitals, or scientific centers have been closed. How have we achieved exemplary results in the battle against COVID-19, which has cost us 100 million dollars that we had not planned", he asked.
"That there are lines, that there is no stability in the food supply, that is true and logical," the official acknowledged, but noted that "the people reason, express themselves, and debate. That permanent feedback is the best economic recovery plan for we have".
"We enter 2021 with great challenges. We will not be able to make great jumps, but we will do it gradually, sharing what we have and developing ourselves".