Cuba recalls hotel bomb attacks
Cuba recalls hotel bomb attacks
Imagen principal: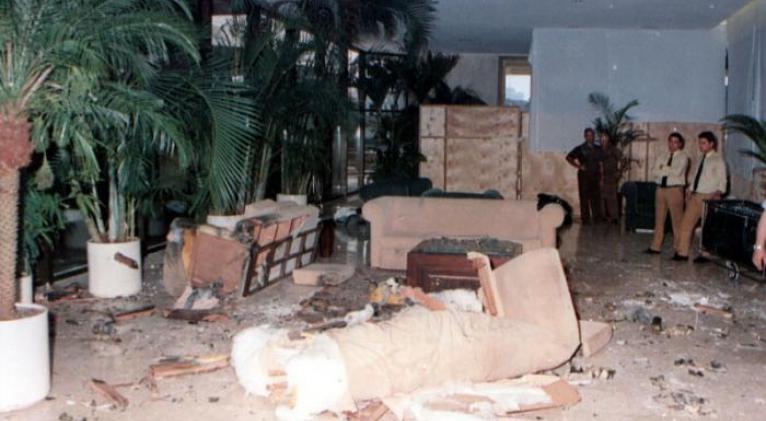 Havana, Jul 12 (Prensa Latina) Cuba on Tuesday recalls the victims of the bomb attacks to two Havana hotels in 1997, as part of a terrorist escalation of anti-Cuban groups based in Miami.
The explosion of bombs at the Capri Hotel and the Hotel Nacional de Cuba, both in El Vedado neighborhood, caused considerable material damages and loss of human lives, during a series of terrorist acts that lasted until September of that year.
Among the victims of these incidents was Italian tourist Fabio di Celmo, who died at an explosion in the lobby of the Copacabana Hotel on September 4, 1997, when he was 32 years old.
Investigations by Cuban authorities led to the arrest of the perpetrators of those events and revealed that the Cuban-American National Foundation and notorious terrorist Luis Posada Carriles were responsible for those attacks.
The objective of these actions was to hit the Cuban tourist sector, which is one of the main sources of foreign exchange earnings for the country.
This purpose is currently maintained through more veiled measures such as the prohibition of travel to Cuba by cruise companies and US citizens, the persecution to suppliers and the banking sector, and a campaign of international defamation on the island as a destination.
In May 2000, the Havana People's Provincial Court ruled on the Demand of the Cuban people to the US Government for damages, which calculated the compensation payments to the Cubans at 181 billion dollars.
As a result of which, 3,478 Cubans have died and 2,099 other people were maimed for life.