Cuba pays tribute to outstanding Cuban Olympic baseball coach (+Photo)
Cuba pays tribute to outstanding Cuban Olympic baseball coach (+Photo)
Imagen principal: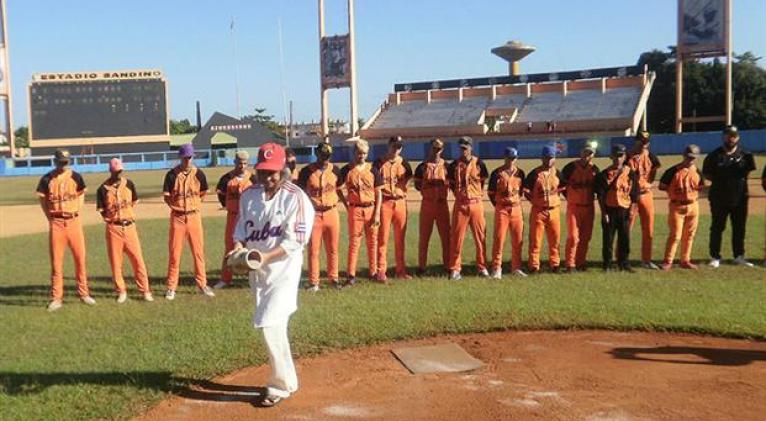 Santa Clara, Cuba, Dec 9 (Prensa Latina) The ashes of the late pitching coach of the Cuban baseball team Pedro Perez, three-time Olympic champion, were scattered here today in the box of the Augusto Cesar Sandino stadium in this city.
Pedrito, as he was known, died two days ago at the Arnaldo Milian hospital in this central Cuban city, at the age of 86, due to complications from neurological and pulmonary diseases.
The coach's widow, Carmen Gomez, at the solemn burial ceremony told the gathered baseball players to 'follow his example, that he admired them very much and maintained until his death the condition of patriot and lover of baseball and the Cuban Revolution'.
The manager of the Villa Clara team, Pedro Jova, who together with Perez won three national titles and two runner-up titles in a row in the 1990s, told Prensa Latina today that Pedro Perez prepared the pitching so professionally that the relief pitchers won more games than the starters themselves.
He never raised his voice to any athlete despite the dissimilar temperaments that each one had, and the pitchers adored him as a father on and off the field', said Jova.
For his part, Luis Borroto, Olympic champion pitcher in Athens 2004, told this agency that he owes his knowledge of the art of pitching to Pedrito Perez, who was very calm with him and taught him everything from the grip of the ball to all the pitches he had in his repertoire.
Born in the municipality of Caibarien, 52 kilometers from this city, the deceased, with a participation in 35 international games, was proclaimed champion along with the members of the Cuban baseball team in the 1992 Barcelona, 1996 Atlanta and 2004 Athens Olympics and two silver medals in Sydney 2000 and Beijing 2008.
His extensive service record also includes 30 national series, 14 selective series, one world classic, 13 world championships, nine Intercontinental Cups, seven Pan American and six Central American Cups.