Conference in New York to Call for Normalizing US-Cuba Relations
Conference in New York to Call for Normalizing US-Cuba Relations
Imagen principal: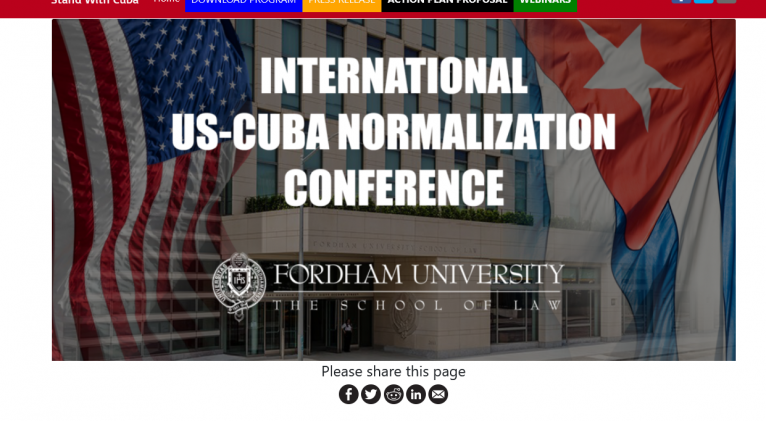 Over a hundred bodies support the celebration of the International Conference in New York for the normalization of bilateral relations between the United States and Cuba, activist Ike Nahem informed Friday.
The all-important event, which will be held Saturday and Sunday at Fordham University in New York, will be attended by colleagues, intellectuals and artists.
All will unite to call for three major demands: to withdraw Cuba from the unilateral US list of state sponsor of terrorism, the lift of the hostile blockade, as well as the end of all Washington's economic and travel sanctions imposed on Cuba.
"For over 60 years, the U.S. government has imposed a brutal economic blockade against Cuba," Nahem said, while stating that regardless of the Covid-19 pandemic, the Donald Trump administration added 243 additional measures to tighten such a unilateral policy.
"Despite promises, Joe Biden's administration has not eased the blockade or lifted any measures," stressed Nahem, member of the U.S.-Cuba International Standardization Conference Coalition.
The event will include speakers from Cuba, the United States, Puerto Rico and Canada, workshops and panel discussions, a Cuban art exhibition and a short film festival.
Cuba solidarity organizers in Miami, Boston, Los Angeles, Minneapolis-St Paul, Portland and Vancouver, Canada, will also screen the event in their cities.
"Trump's cruel and hypocritical inclusion of Cuba in this list has deepened the impact of the U.S. blockade," said Alison Bodine, one of the meeting's coordinators.