Colombian government suspends ceasefire with ELN
Colombian government suspends ceasefire with ELN
Imagen principal: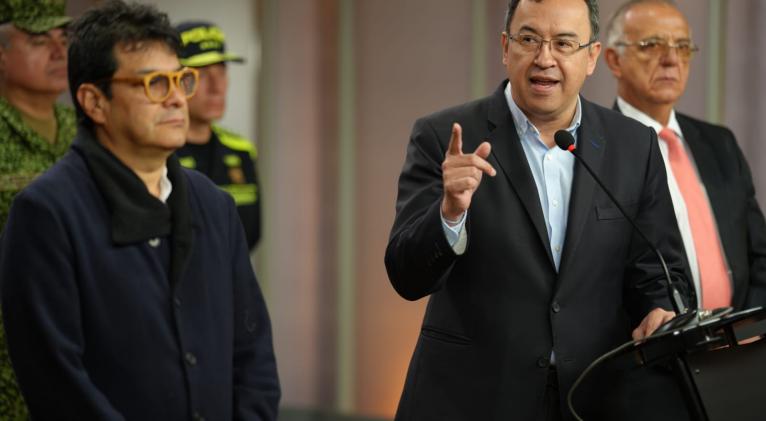 Bogota, Jan 4 (Prensa Latina) Colombian Interior Minister Alfonso Prada announced his goverment suspended ceasefire with the ELN, while protocols are being discussed. 
'Given the will for peace expressed by the National Liberation Army (ELN), and while the protocol for the bilateral ceasefire is being discussed, we invite ELN to declare a verifiable truce in response to the imperative call of the ethnic, territorial and peasant communities in order to keep the bilateral ceasefire and non-violence in their territories', Prada stated.
Prada´s statement came in the wake of controversies generated on Tuesday, after the ELN claimed there is still no ceasefire agreement with the Colombian Government.
The guerrilla group made reference to the announcement made by President Gustavo Petro last January 31 on the six-month cessation of hostilities with five armed groups, among which he mentioned the ELN.
The ELN said on Tuesday that 'the ELN Delegation has not discussed with the Colombian Government any proposal for a Bilateral Ceasefire, therefore, there is still no agreement on this matter'.
Prada, on the other hand, recalled 'the ELN has raised several times how significant is to move on in a bilateral ceasefire. On December 19, after declaring a unilateral ceasefire, the ELN asked national government to act in accordance with its willingness for peace and to discuss the possibility of a bilateral ceasefire'.
Under this understanding, the Executive decreed the bilateral ceasefire on December 31, Prada stressed.
However, Prada announced that 'in view of the ELN´s stance, according to which the ceasefire protocol should be discussed, we have decided to suspend all legal effects of decree 2657 of December 31, 2022, and in the next cycle talks in this regard will be reactivated'.