Cali 2021 Closing Ceremony celebrates volunteers of historic event
Cali 2021 Closing Ceremony celebrates volunteers of historic event
Imagen principal: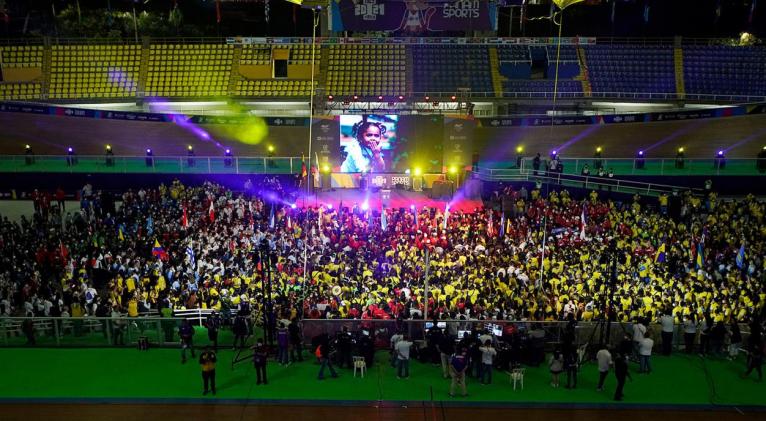 The Cali 2021 Closing Ceremony marked the end of the inaugural Junior Pan American Games with an immense celebration of youth and the Games' volunteers.
The event coincided with International Volunteer Day as each one of the 3,000 piled into the centre of the Alcides Nieto Patiño Velodrome along with representatives from the 41 countries and territories that make up the Pan American region.
Cali's salsa heritage was also honoured as one child dancer from each Panam Sports (PASO) member came out to the arena bearing their national flag.
The atmosphere was palpable and one of excitement as the Games' official song 'Por Nosotros' played, prompting Pana, the event's mascot, to crowd surf across the dancing delegations.
"Immense gratitude and recognition to the Ministry of Sports, the Government of Valle del Cauca and of course special thanks to the volunteers, the friendly face of the Games!" said Baltazar Medina, President of Cali 2021 at the Closing Ceremony.
"To all of you, thank you very much for making sports the great force of brotherhood and integration of our continent."
The volunteers of the Junior Pan American Games were celebrated at the Closing Ceremony ©Agencia.Xpress Media
Medina's address was received by rapturous applause as Clara Luz Roldán took to the stage.
"You, young people, are the heirs of the world and today you can tell your friends that sports have brought you to the most joyful place in the world," said Roldán, Governor of Valle del Cauca.
"Here, you live the breeze, the dance and the music.
"Do not hesitate to say that you were already in the Sucursal del cielo, in the region of the magical towns, in the valley of the invincible."
PASO President Neven Ilic ended the speeches by looking forward to the next edition of the Games in 2025.
Although a host has not been announced yet, the organisation's secretary general Ivar Sisniega revealed to insidethegames that several potential hosts had expressed their interest.
The ceremony was closed out by rap group Element Black who delivered a lively performance which seemed to divide opinion as some danced near the stage while others took their leave.
Approximately 3,800 athletes competed at the first ever Junior Pan American Games held in Cali in Colombia.