Annie Garcés: "I'm Completely Fascinated with the Work with Children
Annie Garcés: "I'm Completely Fascinated with the Work with Children
Imagen principal: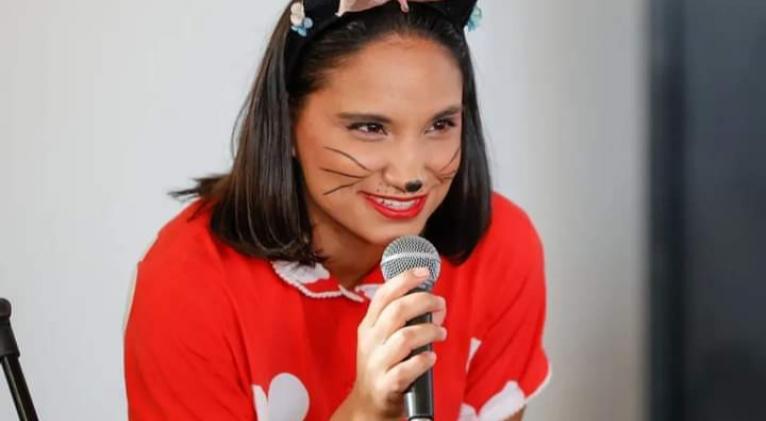 The Gatoypon party has traveled Cuba, has been presented in large and small stages, in open and closed spaces, however, these days it reaches a very special one: the school.
Regarding the tour they are making through educational centers located in neighborhoods in  transformation of the Cuban capital, we talked with Annie Garcés, voice of Mini the Cat and project leader.
How did the idea of the Tour of Communities Schools in transformation arise?
"This tour started from an invitation made by Efrain Sabás, an artistic director with whom we've worked for a long time and in this case, with the support of the Provincial Directorate of Culture and the Education of Havana. Of course the whole idea is to bring, through this show, culture and a bit of entertainment to these children living in remote areas. If they cannot go to our presentations, well we are going to their schools.
You have already visited El husillo, Diez de Octubre and Las Canteras, of Playa Municipality, how have you felt?
"It's being a wonderful, super enriching experience. I think there's nothing more important for an artist than to feel useful and I'm happy to be able to work directly with children in a place as sacred as Cuban schools are."
Tell us a little about what the show is about ...
"Gatoypon is the city whereMini the Cat lives and we named it like that because it's a great party where we sang the songs of the album that bears the same name: Gatoypon's party. It's a nice time to share with children, to teach them the songs of this album.
"We have a small tribute to Teresita Fernández, where we perform Dame la mano y danzaremos, El gatico Vinagrito... and it's also a didactic show because we talk to children about the musical instruments that accompany us, among them the violin, the electric guitar, the bass ...
"A feedback between us and children is created because, in each of the songs of Gatoypon party, we have games, choreographies that children do with us, so it's an event where children have a good time, but we as artists have a lot of fun too. "
Gatoypon's Party was already touring Cuba, what did that opportunity mean?
"With this show we participate in the tour Reencuentros , together with Buena Fe and the Iris duet. To be able to present and sing the songs to children everywhere in our country, I think it's one of the most beautiful experiences we are going to remember the entire Gatoypon party team forever.
"This is an album that has brought us a lot of joy. Here in the Cuban capital we've performed in Fine Arts Museum,  in Old Havana amphitheater, in Casa del Alba , always with crowds. We always say within our team that this project , Gatoypon's party, is the biggest event we've done as artists, including Adrián Berazaín, who is the composer of the 12 songs and Cristopher Simpson who is the music producer of the album, produced by the label Bis Music and ICAIC animation studios. "
But the project still has a lot to do...
"Yes, it's a project that is still growing, because the idea is that the 12 video clips of the 12 songs are filmed, we have 4 videos so far, before yearend the fifth must come out. We are very happy, it's a project that still has a lot of life to go and many children to get to. We are happy to see that through the songs, we can make Cuban children happy. "
Have you fallen in love with children?
"I'm completely fascinated with the work with children and I think the most beautiful thing is that we arrive spontaneously, it was not even planned that we could have such a solid job for the little ones.
"When the animation studios called me in 2019 to assume the voice of Mini the Cat, it took me by surprise, a beautiful surprise. I put together a team with Berazaín and Cristopher to do the first song, which was Mini Misu Miau and that's when the story of Gatoypon, Mini the Cat, Valentín and all his friends began.
"I am completely in love with the children, every day I'm happier to be able to do this show and the truth is that what I like most is that I feel useful, I never felt so useful in life as when I'm working for the little ones" .
What other projects is Annie working now?
"I am working on the final touches of my first studio album, which is called Buscame tu, produced by Bis Music and Cristopher Simpson too. It's an album where I open myself as a composer and I am very anxious and happy that people can listen to my songs. It's a very varied album, where I also have guest composers and right now is the project I dream of the most.
"For 2024 I will also concentrate a bit on showing people the music I'm writing, the music I'm doing and, of course, keep working with Gatoypon party show, presenting the video clips, keep singing and, in addition, my work as a presenter in Cuerda Viva show, which I think we are at a super-nice moment, with a schedule that greatly favors contact with the alternative public. So, the plan is to keep working, I am sure that many surprises are going to keep coming. "
Translated by Amilkal Labañino / CubaSí Translation Staff