John Lennon's diaries, iconic glasses among 100+ stolen items found in Berlin
John Lennon's diaries, iconic glasses among 100+ stolen items found in Berlin
Imagen principal:
Berlin police have recovered more than 100 personal items of the late Beatles star John Lennon. The priceless trove includes Lennon's private diaries and handwritten lyrics. The items were stolen over a decade ago from Lennon's widow, Yoko Ono in New York.
The last diary entry written by Lennon on the day of his death on December 8, 1980 is among the much-sought after haul presented Tuesday. Other treasured pieces, which could fetch over €3 million at auction, include music sheets for the hit singles 'Woman' and 'Just Like Starting Over.' Two pairs of round spectacles, which formed part of Lennon's iconic image, were also recovered by police.
Germany: Police display recovered John Lennon belongings in Berlin
The Deputy Head of Berlin Public Prosecutor's Office, Michael von Hagen, described the case as "extraordinary because of the music-historical background." The investigators, he added, had been "very surprised" about the finds, which are "very interesting" for Lennon fans.
Police are certain the recovered items were stolen from Ono's New York home in 2006. Authorities believe it was taken over a period of time by a Turkish national who worked as her chauffeur in New York from 1995 to 2006 and who now lives in Turkey.
Following the theft, the objects were allegedly smuggled to Turkey and then to Berlin. By 2014, some 86 items ended up in the storage room of the Auctionata online auction house. Despite having it for years, the Berlin-based auctioneer never put the potential treasure trove up for sale.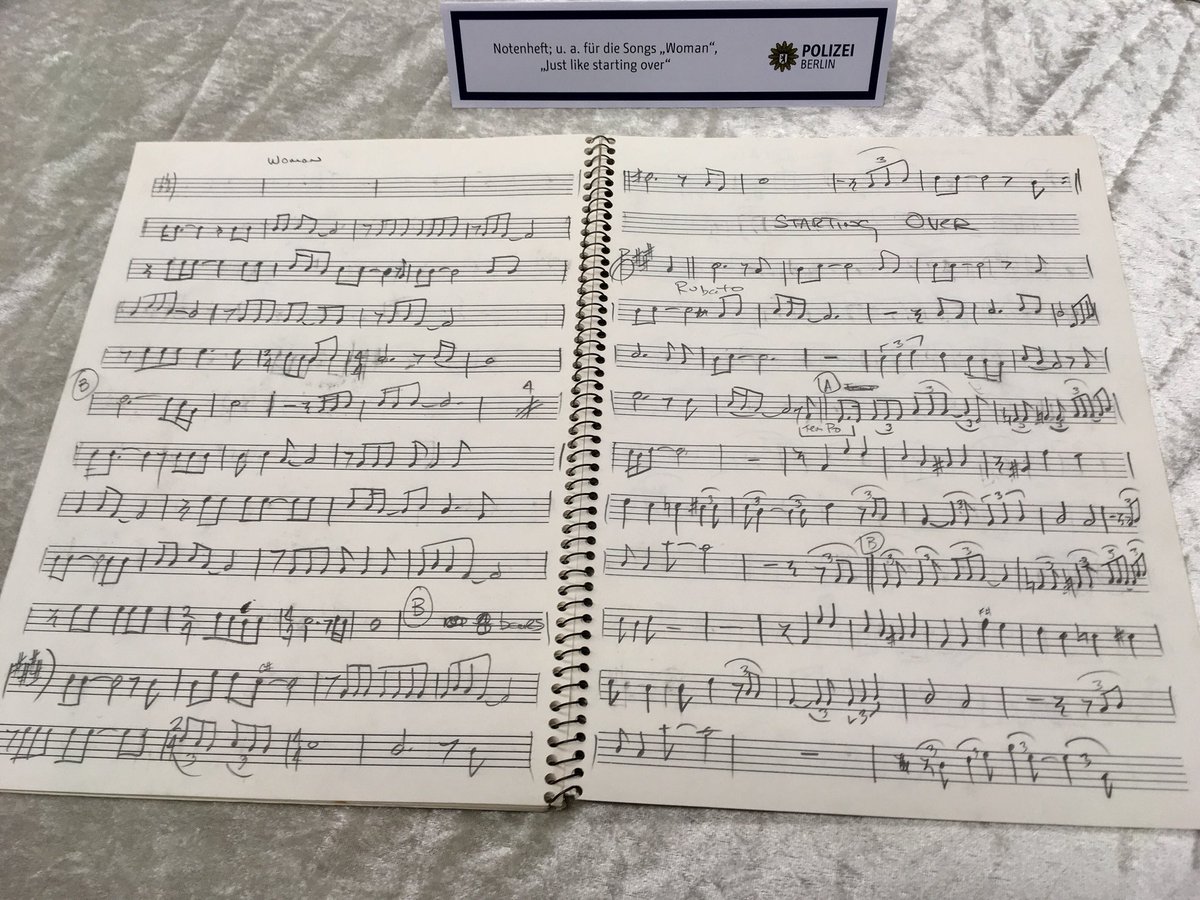 Police said they became aware of the items when a bankruptcy administrator for Auctionata contacted them in July. Authorities confiscated the items from the auctioneers in July, but only this Monday managed to arrest the suspected 58-year-old dealer. Other items belonging to Lennon were found in his car.
@RT_com Pakistani school drops John Lennon's 'Imagine' over blasphemy law fears http://on.rt.com/8li3
Prior to the arrest, German investigators contacted Ono's lawyer and flew to New York to show Lennon's widow some items from the collection so she could identify the lot.
"She was very touchy, and it has become clear that she is attached to these items and of course she wants to get them back," public prosecutor, Susann Wettley was quoted by Spiegel as saying. However, authorities will not be able to release the items as long it is being used as "evidence" in the ongoing investigation.