New ISIS offensive on Palmyra proves terrorists should not be given chance to regroup – Russian MoD
New ISIS offensive on Palmyra proves terrorists should not be given chance to regroup – Russian MoD
Imagen principal:
Islamic State militants used a break in the US-led coalition's advance against them to launch offensive in Palmyra, while counting on the fact that Russia will not conduct airstrikes on residential areas, the Russian Defense Ministry said. The setback shows that terrorists should not be given the opportunity to regroup.
"Seizing on the suspension of active military action near Al-Raqqah till spring by the US and international coalition, Islamic State devoted considerable forces to storm Palmyra," the ministry spokesman Major-General Igor Konashenkov said on Monday.
Konashenkov said that Islamic State (IS, formerly ISIS/ISIL) terrorists knew that the Russian Air Force would not conduct airstrikes in Palmyra's residential areas, and "used that to reinforce their attacks."
@RT_com BREAKING: 4,000 ISIS fighters regroup, make new attempt to capture Palmyra, Syria – Reconciliation Center http://on.rt.com/7xfv
After arriving "unhampered" in Deir ez-Zor and Al-Raqqah, Syria, from Mosul, Iraq, some 4,000 terrorists armed with heavy weapons moved quickly on Palmyra in tanks and armored vehicles, the defense ministry said.
Over the past couple of days, jihadists have attacked Syrian forces near Palmyra several times, Russia's military official said, adding that the offensive had been launched from the north, east, and south.
During the night, IS fighters deployed cars stuffed with explosives and suicide-bombers to break through the Syrian army's defenses and managed to dig in in Palmyra's outskirts, the Russian ministry said in its statement.
"More than 5,000 militants in total took part in the offensive," Konashenkov said, stressing that there had not been so many IS fighters near Palmyra until last Thursday.
"It is obvious that the terrorists concentrated near Palmyra were sure that the military action [against them] in Al-Raqqah would not renew," he said, while observing the situation in Palmyra shows that no "break" should be ever given to IS fighters, as they "use it to regroup and strike unexpectedly."
@RT_com Ready to attack? Up to 1,750 jihadists back in Europe from warzones http://on.rt.com/7x93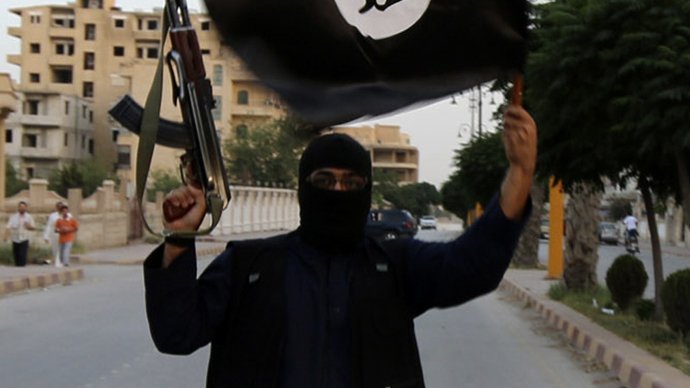 "What is actually interesting is that the American-led coalition, which has very powerful surveillance tools, apparently failed to pick up 4,000 ISIS jihadists making their way to Palmyra with all their equipment, trucks and everything," former UK ambassador to Syria Peter Ford told RT, adding that Washington and its allies "didn't lift a finger to try to stop [the IS offensive] happening."
"I don't think you have to be a genius to work out that there are plans afoot to decamp the ISIS rebels from Mosul into eastern Syria, and this will play into the American narrative that Assad can't control the countryside in Syria and that he's not a good ally in the fight against ISIS," Ford said. He added that "the opposite is the case," as once thousands of the Syrian government forces currently engaged in Aleppo "are released from those duties," they can turn their attention to fighting Islamic State in Palmyra.
READ MORE: Russian & Syrian actions in Palmyra a 'service to mankind' – former US ambassador to RT