Miami Beach: "Funny" racist messages
Miami Beach: "Funny" racist messages
Imagen principal: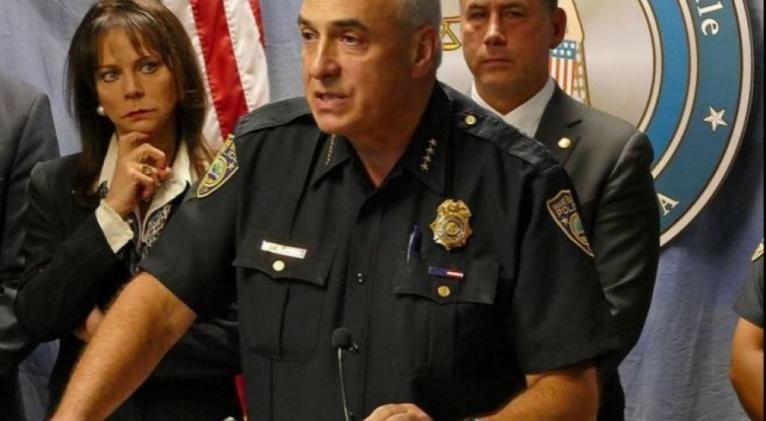 Now, it directly hits its police because of the atrocities committed by part of its men.
The issue is so thorny that the Miami Herald dedicated its Monday editorial to assess the situation.
Titled "Caught in Miami Beach", it disapproved the racist, pornographic and sexist emails sent to cops.
This crisis prompted a press conference attended by State Attorney Katherine Fernandez Rundle, local Police Chief, Dan Oates, and local Mayor Philip Levine.
From that last place, journalist Walter Michot commented that the authors of those offensive messages try to present them as "funny".
He referred to Miami Beach police officers, Maj. Angel Vasquez and Capt. Alex Carulo.
However, pointed out Michot, the content of those messages meant "a shame" for local inhabitants.
But Fernandez-Rundle played down the importance of them when considering that the racist insults and the photos of naked women emailed were just fruit of immature youths.
Previously, she had been the one who revealed the existence of such offenses.
The Herald's editorial included a phrase that forces you to meditate: "that behavior can be dangerous".
Mainly, when those destructive messages, –observers warn– only mean for the black community the tip of the iceberg that erodes them.
They add that racist police abuse their authority on the streets trampling on minorities.
CBS4 News reporter Jim DeFede demonstrated this publicly.
He described his work as an "excellent and horrible story on police abuse".
What was it about? One night agents from that repressive body allegedly took black man Tannie Burke, 21, for a walk.
Their real intention was to carry out revenge, because his stepfather recorded them on a video that was inconvenient for their dirty tricks.
When they left him in the dark several miles from his home, in southern Dade.
Tannie Burke had to spend several hours before arduously returning to home….because he is blind.
Cubasi Translation Staff