Argentine Workers to Hold General Strike Against Neoliberalism
Argentine Workers to Hold General Strike Against Neoliberalism
Imagen principal: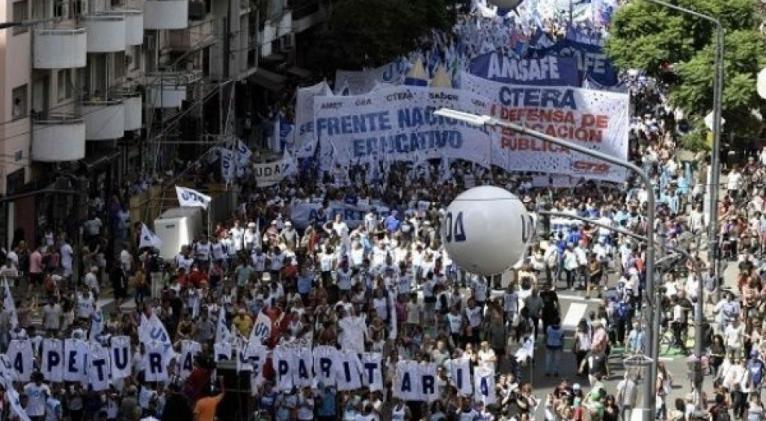 The nationwide strike coincides with the start of the World Economic Forum on Latin America.
Dozens of labor unions and grassroots organizations are calling for a general strike in Argentina on Thursday in protest of President Mauricio Macri and his neoliberal economic policies.
RELATED: Argentine Ambassador to US Quits Amid $2B Arms Deal Scandal
The strike coincides with the start of the World Economic Forum on Latin America, which is expected to attract thousands of business and political leaders from around the world to the Argentine capital, Buenos Aires.
Argentina's General Confederation of Labor, CGT, the country's largest union federation, is one of many organizations calling for and participating in the strike.
"There are many reasons why this strike has been called and hopefully it will cause the government to reconsider and really listen to the most needy sectors," Carlos Acuna Pena, a CGT leader, said on local television, Voice of America reports.
Since taking office in 2015, Macri has implemented austerity programs across numerous sectors of the country's economy.
Gas and electricity prices are rising. Jobs are being cut. Government institutions are downsizing while private companies linked to the ruling administration are getting tax cuts.
But Macri's rollback of social programs implemented by previous progressive governments is also thrusting many into the streets in protest of his administration.
Since early February, thousands of Argentines have led weekly protests across the country against the "Tarifazo," the national increase in gas and electricity prices. Armed with pots, pans and whistles, demonstrators have been calling for the resignation of Argentine Energy Minister Juan Jose Aranguren and a corruption probe against Macri.
RELATED: Argentina: Massive March as Teachers Vow to Continue Strike
Since early March, thousands of Argentine teachers in Buenos Aires have protested cuts to education. Members of the Union of Education Workers and the Teachers' Union of Buenos Aires led nationwide teachers' strikes against the government in response to salary decreases and school closings.
On Thursday, Argentine labor leaders hope to unite all sectors of the country's working class against the neoliberal government.
"The strike is an expression of discontent to everything Macri represents," Acuna told La Nacion.
"The problem we have today is that they do not recognize a problem that exists, that people lost purchasing power and are angry."
The World Economic Forum on Latin America will take place in Buenos Aires from April 5-7.