Where Poetry Dwells (+ PHOTOS)
Where Poetry Dwells (+ PHOTOS)
Imagen principal:
From the hand of photographer, Roberto Chile, the project Donde anida la poesía returns, this time corporeal, in the form of a book. In it are photographs along with the lyrics of well-known Cuban authors who accepted the invitation and the challenge of accompanying the initiative of the documentary filmmaker.
The José Martí National Library of Cuba was the venue for the presentation of the volume that brings together snapshots of Chile, but which today are not the center of an exhibition but one more element, although essential, of the work as a whole that he put together with the poets present. In this case, photography works as a conduit, support, and inspiration, and it constituted the main challenge for the poets, who were summoned to join and innovate, release their talent as the proposed incentive moved them.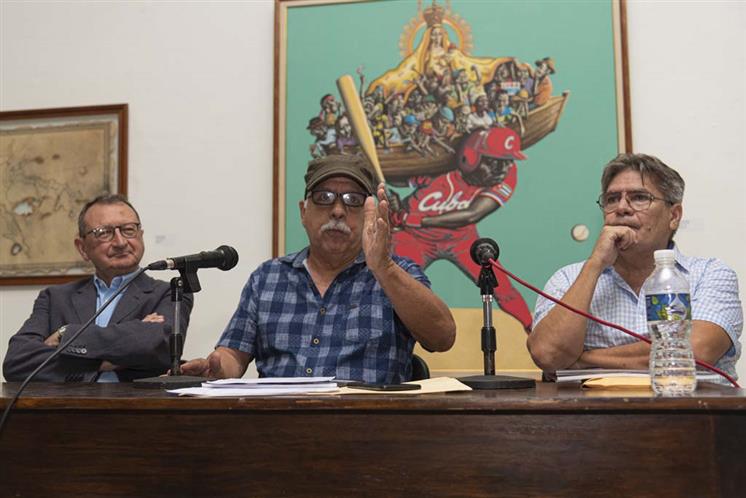 On the selection of images, the prologue writer Rafael Acosta de Arriba, assures that "it belongs to some of the aspects of his photographic work —Chile's —, which expands from the conceptual or experimental, to the purely documentary", but, undoubtedly, it's a group of photos that portray a fragment of contemporary Cuba, which at the same time is a kind of recurring social chronicle in the portfolio of its author, who we are used to finding art in everyday life, with a good handling of lights and colors, with special attention to the details.
The visual side of this project is also a reflection on the growth of its creator. In each of his creations, his evolution is tangible, his constant search for excellence, accumulated over many years of walking on his personal motivations, and experimenting with different styles and modes.
Donde anida la poesía responds to an idea of Chile with a noble purpose, which seeks to confront, dialogue from both poetic forms, the photographed and the written one. In his new installment, these two manifestations of art come together harmoniously, one, an essential support for the other. The book offers the reader unpublished texts by almost all the poets who participated, who, based on the photographs, added value and meaning according to their own perceptions, as free as their fantasies.
According to Chile, it's "a spontaneous and sincere act of love" born at random, and gradually took shape, initially, due to his interest in images, and also due to his fascination with poetry. An example of this is the passage that begins, Causes, written by the photographer 32 years ago.
Chile is respectful in his work, through his images he tells us about our own culture, customs, and realities. Most images in belong to series like Guanabacoa, SOMOS, Fidel es Fidel and Convergencias. Some of them will not be foreign to us but rather familiar, and that has to do with their concerns, including his feelings.
Faced with such an artistic narration, the poets recreated themselves, let their imagination run wild and put forward works of value and beauty, sometimes profound, enigmatic, even sympathetic, as is the case of Fábula de la rosa y la piedra, by Alexis Díaz-Pimienta, on the photograph titled Duelo:
(…)
—Piedra, cásate conmigo.
—No hacemos buena pareja.
—Quién lo ha dicho. —Deja, Deja.
—Piedra, en serio te lo digo.
—¿Y si me caso contigo
dónde vamos a vivir?
—Primero debes decir
Que sí, que nos casaremos.
—Hecho. —Nos alquilaremos
un cuarto en el porvenir.
(…)
Renowned writers like Miguel Barnet, Nancy Morejón, Alex Pausides, Marilyn Bobes, and Basilia Papastamatiú, among many others, left their mark along with photographs of Chile that inspire several themes. Under Bachiller Publishing House Donde anida la poesía reunites everyone. The images were chosen without order with the sole purpose of offering different views. Like tongue twisters, before it was the photographer, then the poets; each shaped; one, his interpretation of an instant, and, others, their deductions from a fragment captured by the lens. Now it's up to the public to be observant, to assume and appreciate art as a whole, or separately, they are free to choose.
Translated by Amilkal Labañino / CubaSí Translation Staff