Red Cross and Red Crescent Movement donation for Pinar del Rio arrives in Cuba
Red Cross and Red Crescent Movement donation for Pinar del Rio arrives in Cuba
Imagen principal: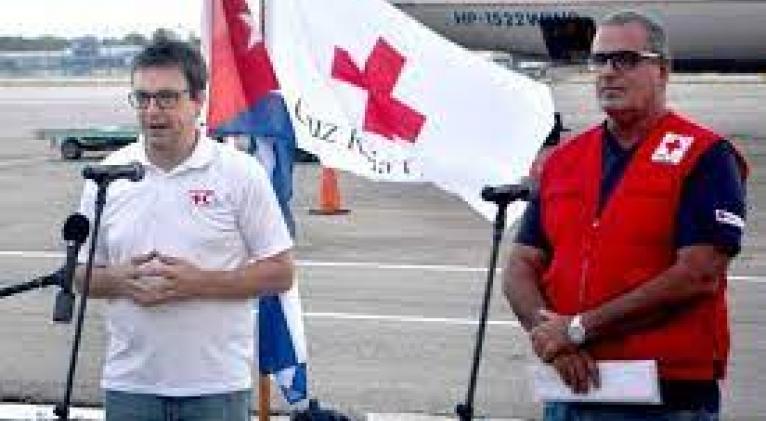 Havana, Nov 9 (RHC) A total of 1,280 hygiene kits and an equal number of stoves and solar lamps arrived this Tuesday in Havana, sent by the International Federation of Red Cross and Red Crescent Societies, and will be distributed in communities of Pinar del Río to families affected by Hurricane Ian.
The donation was received at José Martí International Airport by the head of Operations of the Cuban Red Cross, Luis Enrique Calero Rodríguez, who thanked them for their contribution.
Gonzalo Atxaerandio, the representative of the Regional Delegation of the International Red Cross, said that this humanitarian aid was coordinated after an emergency appeal made to the different organizations that make up this international body, to attend to the needs of the families affected by the natural disaster.
He assured that what was requested by the Cuban people will be provided and that, soon, other donations will be received through the organization.
It was also reported that another shipment, with more than a thousand stoves, was sent from Mexico, to contribute to repairing the damages caused by the Hurricane in the western part of the archipelago.
Cuba's ambassador to Mexico, Marcos Rodríguez Costa, expressed on Twitter his gratitude for the humanitarian gesture, mainly from the president of the Board of Directors of Grupo Delher, Alfredo Delgado, who coordinated the shipment, with the support of the Promotora de Solidaridad Va por Cuba and the Association of Cubans Residing in Mexico José Martí. (Source: Granma newspaper).