Leyanis Pérez achieves the best mark of the year in triple jump
Leyanis Pérez achieves the best mark of the year in triple jump
Imagen principal: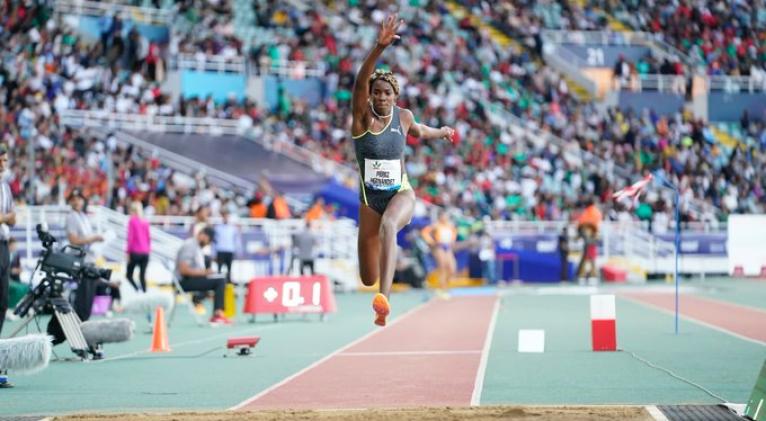 The cuban jumper Leyanis Pérez once again surpassed herself and, incidentally, set a new world record of the year in women's triple, during the second stop of the Diamond League, held in Rabat, Morocco.
Perez, who already led the world ranking of his specialty in 2023, with a record of 14.80 meters (m), he now achieved a mark four centimeters higher, to dominate the test in the Moroccan capital, reports the digital site cubadebate.
The 21-year-old stretched to 14.84m on her second attempt, in a competition in which she also achieved a jump of 14.66m, which would also have won her.
Behind were the Ukrainian Maryna Bekh-Romanchuk (14.65) and the Jamaican Shanieka Ricketts (14.53), while the most experienced Cuban Liadagmis Povea did not have her best day and finished fourth with 14.27 m.
"I am happy to be in the first position and get this victory," said Pérez, quoted by cubadebate.
The Antilles praised the organization of the event and considered that this result was due to her good training.
"I am ready for the next competitions and for the world championship," said the Cuban, who in the main events of the year will have the tough obstacle represented by the outstanding Venezuelan Yulimar Rojas.
Other results for Cuba this Sunday
Also this Sunday, other Cuban athletes won titles outside the island.
It was the almost four-hundred-year-old Roxana Gómez and the triple jumper Cristian Nápoles, who won their respective tests in the athletic contest in the French town of Forbach.
Gómez fell below the 51-second barrier and with her best mark of the year (50.60) climbed to the top of the podium, ahead of the Polish Justyna Swiety-Ersetic (52.33) and the Latvian Gunta Vaicule (52.43), according to cubadebate.
Meanwhile, Napoli jumped to 17.04 m, a record 30 centimeters from their season height, but enough to surpass their rivals. As his immediate escorts were the Australian Aiden Hinson (16.48) and the German Max Hess (16.40).
Rose Mary Almanza finished in silver, with an acceptable time of 1:59.66, valid to escort the Ethiopian Habitam Alemu (1:58.59), who set the record for the meeting.
Finally, in the multiple events event in Götzis, Austria, the Cubans did not have a good day.
Adriana Rodríguez left without valid marks in the long jump, and although she kept competing, she barely managed to add 5,222 points and finish in 23rd place among 14 heptathletes.
One place (22) ahead was Marys Patterson, with 5577, which, however, was her best heptathlon of the year.