It is being confirmed in Italy that "Cuba is not Isolated"
It is being confirmed in Italy that "Cuba is not Isolated"
Imagen principal: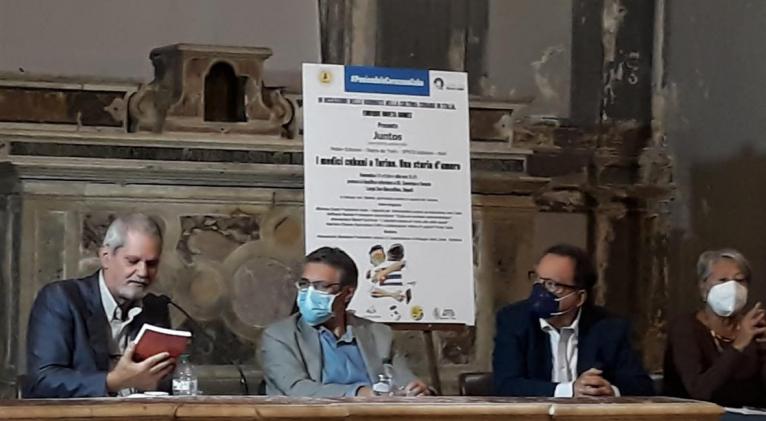 While in Rome a small group of members of the Cuban opposition staged a media show last Sunday to promote hatred and military interventionism, Italian friends and Cuban emigrants confirmed the solidarity and love between our two people in Naples, south of Italy. 
It was a privilege to listen to the words and ideas of Alessandra Riccio, great Italian intellectual and supporter of Cuba and its Revolution, during the launching of the books Diario de Turín and Juntos, both written by Cuban writer and essayist Enrique Ubieta, in this southern city of Italy.
"Cuba is an island. But it is not isolated," stated Riccio, who traveled in a brilliant way through the Cuban history and defended the idea that Cuba's exceptional behavior is a symbol amid a world full of injustice.
To the Italian intellectual, "revolutionary, socialist Cuba moves forward, and always punished by the U.S., though." "And no one can deny the answer: Cuba heads to the future, developing great medicine, social justice, and rights while defending there are other ways to do thing in favor of human beings, which are actually achievable."
The San Severino Basilica —ecclesial community in Sant Egidio where Italian religious and lay people carry out important social works since 1968, with a presence in over 70 countries worldwide, including Cuba, hosted the event. They, who have helped so many people during the pandemic, understand and are grateful the solidarity behavior of the island. A powerful image of everything that can be done if instead of walls, bridges are built.
There were many young Italian people in the audience as well as members of the Cuban community in this city, who reject the war and hatred against their homeland. That is the case of Indira Pineda, Cuban sociologist, who stated she does not forget where she comes from nor the country she was trained by. In her words, she feels really proud of Cuba's solidarity with Italy in the darkest hours of the pandemic and the arrival of the medical brigade to Crema and Turin.
The work carried out by Cuban health personnel was addressed in the speeches delivered by Enrique Ubieta and Michele Curto. They talked about Cuban biotechnology, which is universal, with the passion of young Italian scientist Fabrizzio Chiodo, who has collaborated with the Finlay Institute. "Were it not for the training in Cuba, under siege and blocked, and its biotechnology, perhaps I would have quitted doing science," said Chiodo.
Hugs of friendship and love for Cuba in a Sunday full of light, from Naples, which is to say from Havana, with its beautiful chaos, its strong spirit and identity, which they defend at all costs, like us.
Translated by Sergio A. Paneque Díaz / CubaSí Translation Staff