Exhibition on John Paul II's visit to Cuba inaugurated in Havana
Exhibition on John Paul II's visit to Cuba inaugurated in Havana
Imagen principal: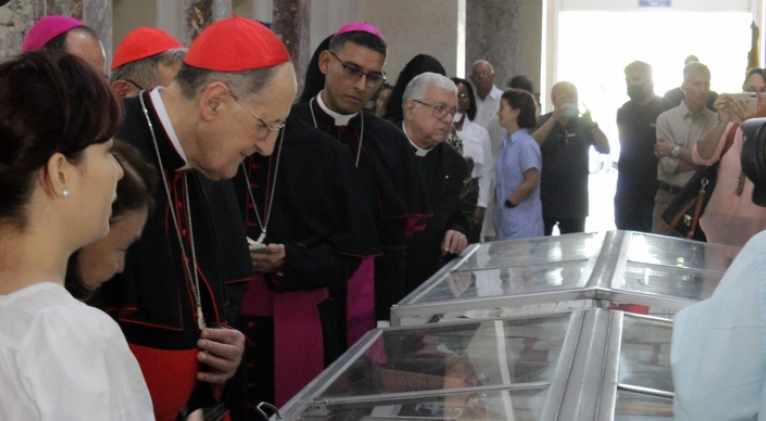 An exhibition commemorating the 25th anniversary of St. John Paul II's apostolic trip to Cuba was inaugurated Wednesday in Havana, in the presence of Culture Minister Alpidio Alonso Grau and Cardinal Beniamino Stella, Pope Francis' envoy.
The opening, at the National Library of Cuba 'José Martí' (BNJM), was also attended by Caridad Diego Bello, head of the Office of Attention to Religious Affairs of the Central Committee of the Communist Party of Cuba; Elio Rodríguez Perdomo, vice minister of Foreign Affairs; Juan de la Caridad García Rodríguez, Archbishop of Havana, and other ecclesiastical authorities and diplomatic personnel.
The exhibition consists of photographs, objects, and publications from different national and foreign media related to the visit of the Supreme Pontiff to the largest Antillean Island, which took place between January 21 and 25, 1998. The exhibit also shows the subsequent journeys of his successors Benedict XVI and Francis.
Cardinal Stella confessed to the Cuban News Agency, feeling very moved by what he has seen this time, which allows him to relive many memories of the historic visit.
Photo: Luis Jiménez
He assured to have great sympathy, affection, and a very positive memory in everything that surrounds that event, indicative of the purpose of the Cuban authorities in the path of making feasible the possibilities of rapprochement with the Vatican.
On the occasion of the 170th anniversary of the birth of José Martí, Cuba's National Hero (January 28), he qualified him, together with Father Félix Varela, as great lights who marked with their life and work the patriotic feeling and the struggle for the welfare of the people, for which they constitute important roots of the Cuban soul.