Díaz-Canel talks with Kenyan president about kidnapped Cuban doctors
Primary tabs
Díaz-Canel talks with Kenyan president about kidnapped Cuban doctors
Imagen principal: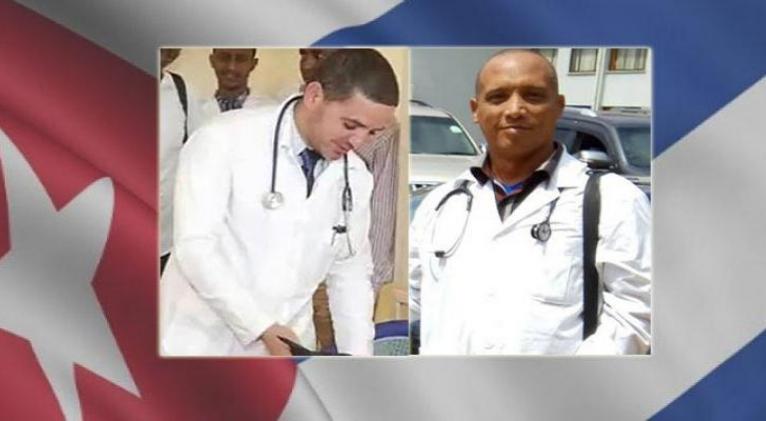 Havana, October 9 (RHC)-- Cuban President Miguel Díaz-Canel reports that he had a telephone conversation with his Kenyan counterpart, Uhuru Kenyatta, in which they ratified their willingness to continue working together to achieve the safe return to our country of the two Cuban doctors kidnapped in that African country in 2019.
Díaz-Canel disclosed on his official Twitter account details of the conversation, which he considered useful, in which they exchanged on issues of the bilateral and multilateral agenda.
"I had a fruitful phone conversation with the President of Kenya. Uhuru Kenyatta where we exchanged on bilateral and multilateral agenda issues.  We ratified that we will continue working together to achieve the safe return of Landy and Assel to the Homeland #SomosCuba", says Díaz-Canel's tweet.
The kidnapping of the collaborators Assel Herrera Correa, specialist of General Integral Medicine of the province of Las Tunas, and Landy Rodriguez Hernandez, specialist in Surgery, of Villa Clara, took place in the early morning hours of April 12, 2019.
Just two days ago, Juan Antonio Fernández Palacios, general director of Press, Communications and Image of the Ministry of Foreign Affairs of Cuba, denied the information that was replicated by several media and in the digital social networks, about the alleged release of the two Cuban doctors.
The director of the Ministry of Foreign Affairs assured that the government authorities are closely following this issue that is attracting the greatest interest from our people.  "The steps and huge efforts to guarantee the liberation and the safe return to the Homeland of our two health collaborators are being continued," Fernández Palacios wrote at that time.