Díaz-Canel meets activists friends of Cuba
Díaz-Canel meets activists friends of Cuba
Imagen principal: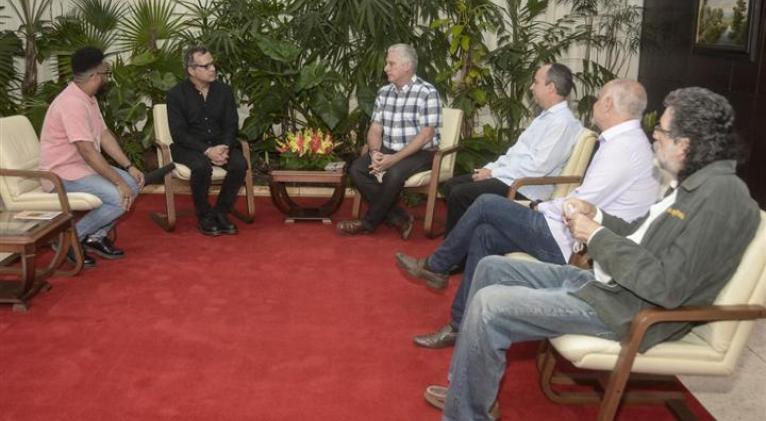 Havana, July 2 (RHC)-- Cuban President Miguel Diaz Canel Bermudez received Friday U.S. activists Vijay Prashad and Manolo de los Santos visiting the island.
The need to elaborate a new consensus, from the theory and according to the different experiences of social movements and countries, on the road to socialism was a common point in the dialogue between the president and the visitors.
The talk between Diaz-Canel and the members of the Tricontinental: Institute for Social Research at the Palace of the Revolution focused on Marxist theory and social action in the unique historical moments that humanity is living today and where socialism continues to be confirmed as the only way out for the future.
Vijay Prashad is an Indian-American historian, Marxist, and journalist, executive director of Tricontinental: Institute for Social Research and editor-in-chief of LeftWord Books; and Manolo De Los Santos is co-executive director of The People's Forum and researcher at Tricontinental..., he participated in the organization of the People's Summit held on the occasion of the failed 9th Summit of the Americas in Los Angeles, USA, in early June.
Díaz-Canel thanked Vijay Prashad for his solidarity with Cuba, for his efforts to disseminate Fidel's work and thought, and for organizing meetings between American and Cuban intellectuals, and between communicators and influencers from both countries, in addition to other actions in favor of Cuba.