Cuba repairs damages to power grid caused by Hurricane Ian
Cuba repairs damages to power grid caused by Hurricane Ian
Imagen principal: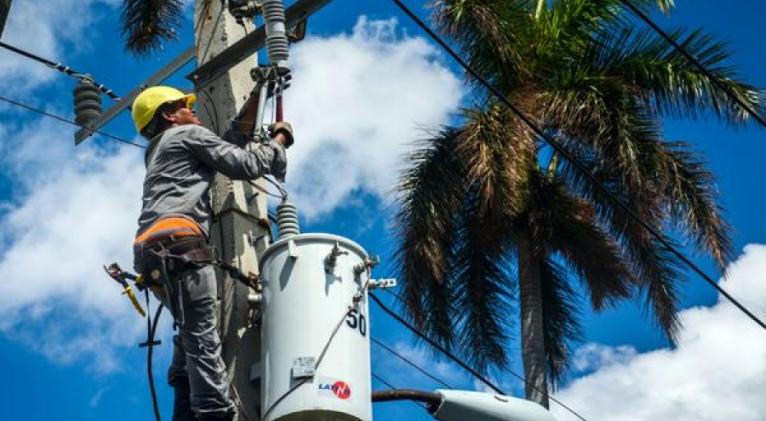 Cuba is making progress today in recovery efforts to restore the power grid severely damaged by Hurricane Ian in the west of the country, while advancing strategies to increase power generation.
According to the technical director of the Electrical Union (UNE), Lazaro Guerra, in the early hours of Saturday morning it was possible to cover the demand for this service from Matanzas (west) to Guantanamo (east).
At present, the number of customers affected by the hurricane who have yet to receive service is 515,976, 129,099 less than on Friday night.
According to the specialist, in the case of Pinar del Río, in the last few hours more than 3,000 consumers received service, which means 1.57 percent coverage.
The greatest efforts are made in that province, since the strong storm damaged more than 3,700 electrical poles, 451 transformers and hundreds of meters of cable.
In Artemisa province, coverage grew to 35.95 percent, and in Havana, 82.05 percent of customers have already been served.
Mayabeque and Isle of Youth have a more favorable scenario, with 99.34 percent of electricity coverage in Mayabeque and 97.62 percent in Isle of Youth. Guerra explained that in Pinar del Río as well as in Artemisa and Havana, brigades from the rest of the country provide support to speed up recovery works.
The UNE technical director explained that for this Saturday, there is 400 MW power deficit expected during daytime hours, and during peak demand it will be 807 MW, spread throughout country.
He reported that today, generation units No. 1 and No. 3 of Santa Cruz power plant should start operation for peak demand hours, as part of the strategy to increase generation and incorporate loads in order to meet the demand.
Ian hit Cuban territory on September 27, with maximum sustained winds of 205 kilometers per hour (category three on the Saffir-Simpson scale (out of a maximum of five).
Its effects continued to be felt in the western region during the night and early morning of the following day, with rain and tropical storm winds, as well as storm surges on the north coast and flooding.