Cuba and the OEI: Collaboration for the Ibero-American Present and Future
Cuba and the OEI: Collaboration for the Ibero-American Present and Future
Imagen principal: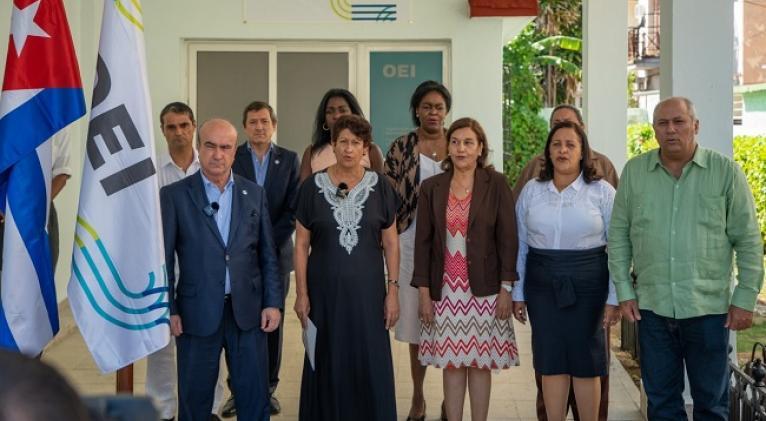 The Organization of Ibero-American States for Education, Science, and Culture (OEI) opened its first permanent headquarters in Havana last Monday and that's not just another piece of news.
The Secretary General of OEI, Mariano Jabonero Blanco, described the event as a "historic and crucial moment," which will contribute to consolidating and expanding cooperation in terms of education, science and culture for the benefit of the inhabitants of this Island.
Spanish educator Jabonero Blanco also assured that with this decision justice is served for Cuba, always committed to the organization's projects, and whose contributions have been worthy, according to what he told ACN.
It's a significant coincidence that the opening of this headquarters coincided with the beginning in Cuba of the 2022-2023 school year, whose official opening ceremony took place, not coincidentally, in Pinar del Río.
Undoubtedly, that Cuba has a permanent headquarters of OEI, agreed since last March, is an important recognition of its work in the fields of education, science, and culture; at the same time, it will promote reciprocal collaboration between that organization and Cuba.
As a result of the inauguration ceremony of this first headquarters in Cuba, it was announced about the consolidation of educational projects, aimed at training teachers around new technologies and improving learning processes; this, with the help of OEI.
In addition, as the Cuban Minister of Education, Ena Elsa Velázquez Cobiella, pointed out, the presence of this representation in the national territory will make it possible to streamline and diversify the lines of multilateral cooperation and strengthen ties with the scientific, educational, and cultural community.
Cuba has been a member state of OEI since 1985, the oldest entity of the Ibero-American cooperation system, with more than seven decades of existence, and the one with largest presence in the region (including that of Cuba, with 19 national offices and a general secretariat in Madrid). It regards education, science and culture as tools for human development and generators of opportunities to build a better future.
The opening of this new office in the field of collaboration is so important that the Cuban president, Miguel Díaz-Canel, three days before the event, had sent a message to the General Assembly of OEI where he stated that:
"We are pleased to know that an office of the Organization of Ibero-American States will soon be inaugurated in Havana. This decision will mark the beginning of a new and higher stage of work for the benefit of Cuban men and women, but also of all the peoples of Latin America."
He also added: "Unity, solidarity, and cooperation have never been so decisive as now to ensure a better destiny for present and future generations."
Translated by Amilkal Labañino / CubaSí Translation Staff