President of Spain Assesses Fund for Investments in Cuba
President of Spain Assesses Fund for Investments in Cuba
Imagen principal: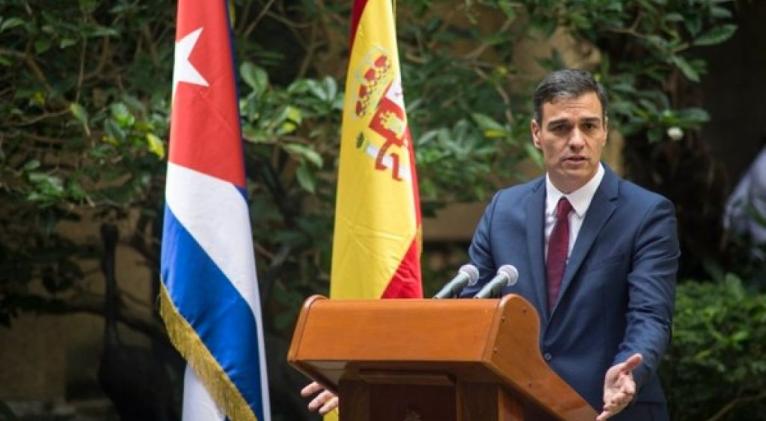 Cuba and Spain created a joint fund of 415 million euros to support investments here by Spanish companies, the president of the Spanish Government, Pedro Sanchez, said on Friday.
This is part of the reordering of Cuba's foreign debt, Sanchez stressed at a bilateral business forum, also chaired by Cuban President Miguel Diaz-Canel, at the modern Hotel Iberostar Grand Packard.
The fund, Sanchez noted, allows financing to be channeled to strategic investments for Cuba's economic development and at the same time, to support Spanish business. The challenge, he said, is to speed up the operation of this mechanism.
Spain, he added, is currently among Cuba's top three suppliers, with nearly 900 million euros in annual exports.
It is also Cuba's main European partner, with a market share of nearly 40 percent, in a difficult international environment in the shadow of global protectionism, Sanchez pointed out.
Despite adversities in the international arena, in 2018, Spanish exports to Cuba grew by 5 percent, 'a figure that we must put in context to assess it with justice,' the Spanish president underlined.
Another strength is the high participation of Spanish small and medium-size enterprises (SMEs) in these business, since it establishes 'a doubly beneficial field of action' and a model of sustainable development, the head of the Spanish Government assessed.
In addition, Spain occupies one of the top positions as an investor in Cuba, with a stock of 370 million euros, recalled Sanchez, who praised, in particular, the results in the sphere of tourism.
He stressed that the Spanish Government has a clear understanding of the financial problems being faced by the Cuban State; hence, the recent decision by the Spanish public company of export credit insurance to open coverage to Cuba in the short term.
In addition, the Spanish Development Financing Company allocated 40 million euros to projects in Cuba and works hard to mobilize more resources.
'The objective, therefore, is solid to support more and better projects to implement productive investments in Cuba,' he said.
According to Sanchez, his presence in Havana is a message of security: 'The obstacles we face along the way are not going to interrupt or slow down the increase in commerce and investment between our two countries,' he said.
'It would be unforgivable that we did not take advantage of all the opportunities of this meeting to advance in Cuba's modernization and opening and to strengthen economic and commercial ties,' he noted.
The bilateral forum, attended by executives from more than 300 firms, developed several sectoral panels and included the signing of two agreements for financial support for investments.