Hundreds stranded in North Carolina floods after Hurricane Matthew
Hundreds stranded in North Carolina floods after Hurricane Matthew
Imagen principal: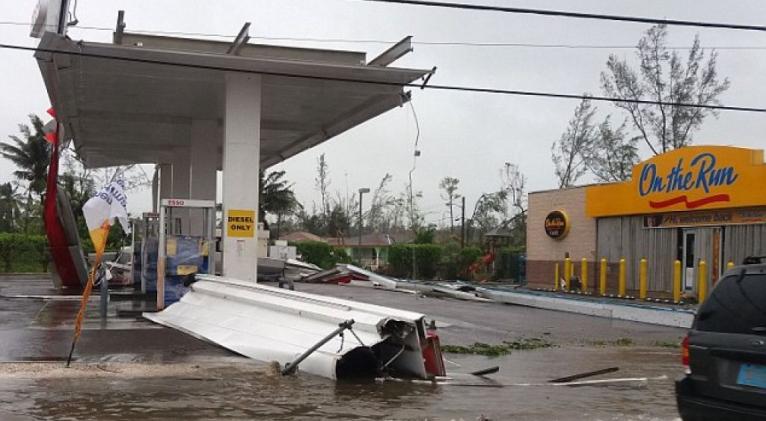 The rivers were expected to crest early this week, with a few areas surpassing previous records.
FAYETTEVILLE, N.C. - (AP) - Matthew is long gone from the Atlantic coast early Monday, but the devastation lingers, most notably in North Carolina, where flooded cities are trying to dry out and those downstream are keeping a close eye on rising rivers.
"This is still an extremely unsafe situation", McCrory said. "Our models show very, very risky conditions as those rivers go over their edges". The Lumber River in Lumberton was 4 feet above its record level Sunday afternoon and was forecast to remain there for at least five days.
Matthew sideswiped hundreds of miles of the USA coastline from Florida through Georgia and the Carolinas, its eye staying far enough offshore that the damage in many places along the coast was relatively modest, consisting mostly of flooded streets, flattened trees and blown-down signs and awnings.
According to Haiti's Civil Protection Service, more than 330 people were killed but some media outlets citied figures from local officials that claimed the death toll exceeded 800.
They heard her cries for help while riding on top of a Humvee, and when they couldn't get her with a rope, a National Guard soldier swam to her, staying until a rescue boat arrived, Emergency Management Director Gordon Deno, said. The agency warned that floodwater could be charged by downed power lines or could hide unsafe debris.
McCrory said 334 rescue workers risked their lives carrying out 877 rescues overnight.
Frenel said 522 people died in Grand'Anse alone. Most were swept away by flood waters. "At night it is deadly". And, he said, "Trees are down in every neighborhood on nearly every road".
The precise death toll remains uncertain. "The power of water can kill people". "Turn around, don't drown".
South Carolina Gov. Nikki Haley on Sunday lifted evacuation orders in four counties, saying residents in another two may be allowed back on Monday.
Even after the storm was downgraded to a post-tropical cyclone on Sunday and it moved out to sea, officials warned that the worst is not over.
The storm still packed hurricane force winds as far as 90 miles (150 km) from the center and tropical-storm-force winds 240 miles (390 km) away.U.S. President Barack Obama declared a state of emergency in Georgia and Florida, freeing up federal money to help the states fix damaged infrastructure and remove debris.
On Sunday, the most powerful Atlantic storm since 2007 unleashed torrential rains and powerful winds as it churned slowly north after pummelling the southeastern coast of the United States, killing at least 11 people in Florida, Georgia and North Carolina since Thursday and leaving more than two million businesses and homes without power.
In Haiti, where the storm killed hundreds of people: "A massive relief effort is being mounted for hurricane-ravaged parts of Haiti", NPR's Jason Beaubien reports from Port au Prince, "with President Obama urging Americans to give whatever they can".
The storm sideswiped hundreds of miles of US coastline from Florida to the Carolinas, but its eye remained far enough offshore that the coastline damage in many places was relatively modest, consisting mostly of flooded streets, flattened trees and blown-down signs and awnings. By the time the storm hit Charleston, S.C., it was a Category 1 hurricane, but the historic port city still faced a 6-foot storm surge, severe flooding and fallen trees.
An estimated 2 million people in the Southeast were ordered to evacuate their homes as Matthew closed in.
The storm left 1000 people dead in Haiti, and on Monday United Nations Secretary-General Ban Ki-moon said some Haitian towns and villages had been nearly wiped off the map.