Libertarian Party Selects Gary Johnson, William Weld For Presidential Ticket
Libertarian Party Selects Gary Johnson, William Weld For Presidential Ticket
Imagen principal:
The nominations came after an often raucous nominating convention. Johnson was unable to obtain the necessary 50-plus percent of convention delegates on the first round of balloting. He ultimately finished with 55.8 percent of delegates supporting him.
Weld won on the second ballot with 51 percent support. The Libertarian Party selects its president and vice president separately.
@Bencjacobs And Bill Weld wins by a hair 51%-47% on the second ballot after getting 49% on the first ballot
Johnson and Weld will now serve as the standard-bearers for the economically conservative, socially liberal party. Interest in alternative presidential candidacies has spiked recently, due in part to the historically low approval ratings of Republican presumptive nominee businessman Donald Trump and likely Democratic nominee former Secretary of State Hillary Clinton. Several recent polls have found Johnson, who served as New Mexico's Republican governor from 1995 to 2003 and was the Libertarian Party's presidential nominee in 2012, earning the support of around 10 percent of likely voters.
Thus far, the Johnson-Weld campaign has been running a mostly shoestring operation, focusing more on building support within the party than soliciting support for the general election.  
With their ticket set, the Libertarians' goal now is to create a national campaign infrastructure — raising funds and building up field, digital, press and other operations necessary to remain competitive. A number of party officials this weekend expressed hope that large-dollar donors would flock to the Libertarian Party due to frustration with the Democratic and Republican tickets.
"If [the nomination] happens, I think there will be a lot of money that will roll into this campaign and given a lot of money," Johnson said Saturday. "I think we'll have a lot of real expertise at the table that we haven't had to this point and would be able to strategize."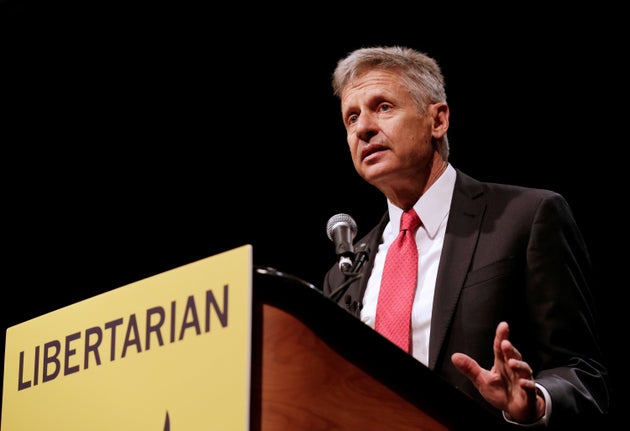 Kevin Kolczynski/Reuters Libertarian Party presidential nominee Gary Johnson gives an acceptance speech during the National Convention in Orlando, Florida, Sunday.
Libertarian Party Chairman Nicholas Sarwark told The Huffington Post the goal will be to entice disillusioned bundlers and so-called megadonors to donate to his party.
"[I'll be] explaining why the return on their political investment for putting money into the Libertarian Party is so much better than the return on political investment for putting money into one of the old parties," Sarwark said.
"I've talk to three or four people just at this convention who have super PACs right now who don't have a candidate to support," he continued. "[They] are here to see who we nominate and to see if that's a ticket that they can get their network behind."
In addition, the Johnson campaign and Libertarian Party officials have their sights set on the presidential debates, which they view as their best chance of reaching a wider audience. The Commission on Presidential Debates mandates that a candidate receive 15 percent in national polls to earn a spot in the debate. The Johnson campaign is currently involved in a lawsuit against the commission to lower the threshold.
Johnson's running mate, Weld, was thrown into jeopardy this weekend as activists raised concerns over Weld's ideological bona fides. Weld was a state campaign chair for Mitt Romney's 2012 presidential campaign and many in the party viewed his recent addition to the ticket with suspicion. Many also expressed concerns over his decision in 2006 to leave the New York gubernatorial race after securing the Libertarian nomination, leaving the party without a candidate.
Weld's attempt to stem the bleeding only made matters worse. In a debate on Friday, he voiced his support for the United Nations, a bête noire in libertarian circles. Exacerbating the situation, he said libertarians are often regarded as "unattractive people."
On Saturday, when another attendee called for reducing the CIA's presence overseas, Weld replied that he was possibly biased in the matter, name-checking Kermit Roosevelt Jr, his "great uncle in-law" and a leading CIA figure who helped depose a number of foreign governments, including the 1953 overthrow of Iran's democratically elected leader, Mohammad Mosaddegh.
Johnson spent much of his speech Sunday urging the gathered delegates to select Weld as their vice presidential nominee. He stressed that he was not a prolific fundraiser, but said Weld had raised "close to a quarter of a billion dollars" in the course of his career. 
Johnson added that he planned to take his campaign all the way to the White House. "We do have the opportunity to reach millions and millions of Americans," he said. "I've never been involved in this without the notion of winning."
With the nomination secure, Johnson told HuffPost Sunday morning he plans to head to New York City for a number of unspecified media appearances.