World's 1st Genetically Modified Banana Sent for Approval
World's 1st Genetically Modified Banana Sent for Approval
Imagen principal:
Australian researchers have developed the first genetically modified (GM) banana in the world and now await official approval from food authorities to produce and sell the banana crops on a large scale.
The Cavendish variety of bananas known as QCAV-4 was engineered by scientists at Australia's Queensland University of Technology (QUT), and is a major step towards protecting the US$20 billion banana industry, which is under serious threat from a fungus known as Panama disease.
The government's Food Standards Australia and New Zealand (FSANZ) and the Office of the Gene Technology Regulator (OGTR) have commenced an assessment of the bananas to see if they would be safe to grow and consume.
"This is the first whole GM fruit to be assessed by FSANZ. If approved, it would also be a world-first approval for a GM banana," FSANZ CEO, Sandra Cuthbert, said in a statement.
'Same as the Original'
Panama disease has already severely impacted Cavendish banana production throughout Asia, has started taking a foothold in South America, and is now a serious threat to Australia's banana production, with the disease already spreading in the Northern Territory, according to the QUT researchers.
To improve the banana's disease resistance, the scientists combined the Cavendish banana with a single gene—RGA2—taken from a wild, Southeast Asian banana, Musa acuminata ssp malaccensis which is completely resistant to the disease.
From left to right: A wild banana plant, a Cavendish banana plant, and a QCAV-4 banana plant. QUT is trialling QCAV-4 banana plants in the fields of the Northern Territory. (Anthony Weate)
Your Health Matters
In a field trial in the Northern Territory, the GM bananas showed robust resistance, remaining completely disease free.
QUT Distinguished Prof. James Dale, who led the research, said QCAV-4 has the same shelf life and resembles the Cavendish in both taste and shape
"Compared to ordinary Cavendish bananas, they have the exact same composition," Prof. Dale said.
"We don't expect them to taste any different whatsoever. However, we will be setting up independent taste panels in the near future."
"We've only changed one gene, and what we've seen in the fields so far is that they mature exactly the same as all other Cavendish."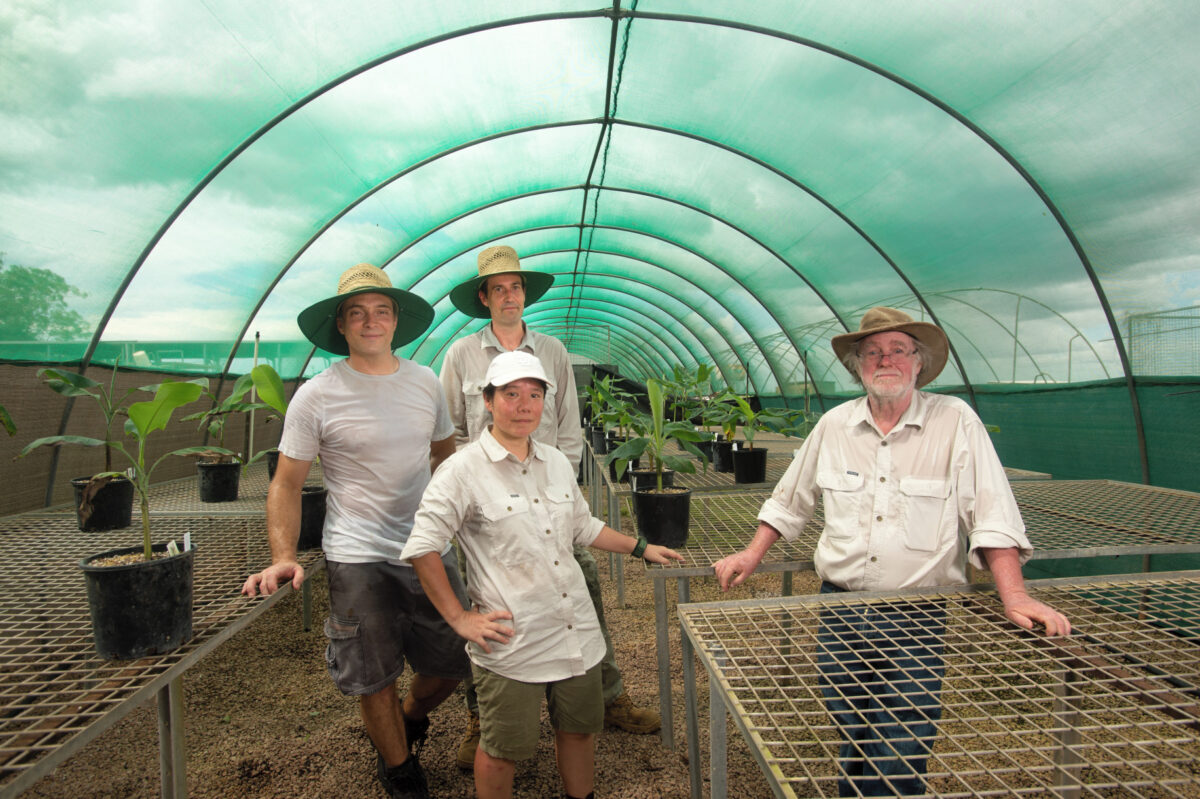 Queensland University of Technology's Jean-Paul Yves, Anthony James, Maiko Kato, and Distinguished Prof. James Dale, the team trialling disease-resistant cavendish bananas with young banana plants in a facility in the Northern Territory. (Queensland University of Technology)
Known by scientists as the Tropical Race 4 (TR4) strain of Fusarium wilt, it is commonly called the Panama disease because it was first diagnosed in banana plantations in the Central American country, even though it first appeared in Taiwan.
It is a soil-borne fungal disease with symptoms of:
yellowing and browning of leaves
dead leaves collapsing
younger leaves remaining green and upright, giving the plant a spiky appearance
stem splitting occasionally occurs at the base of the plant.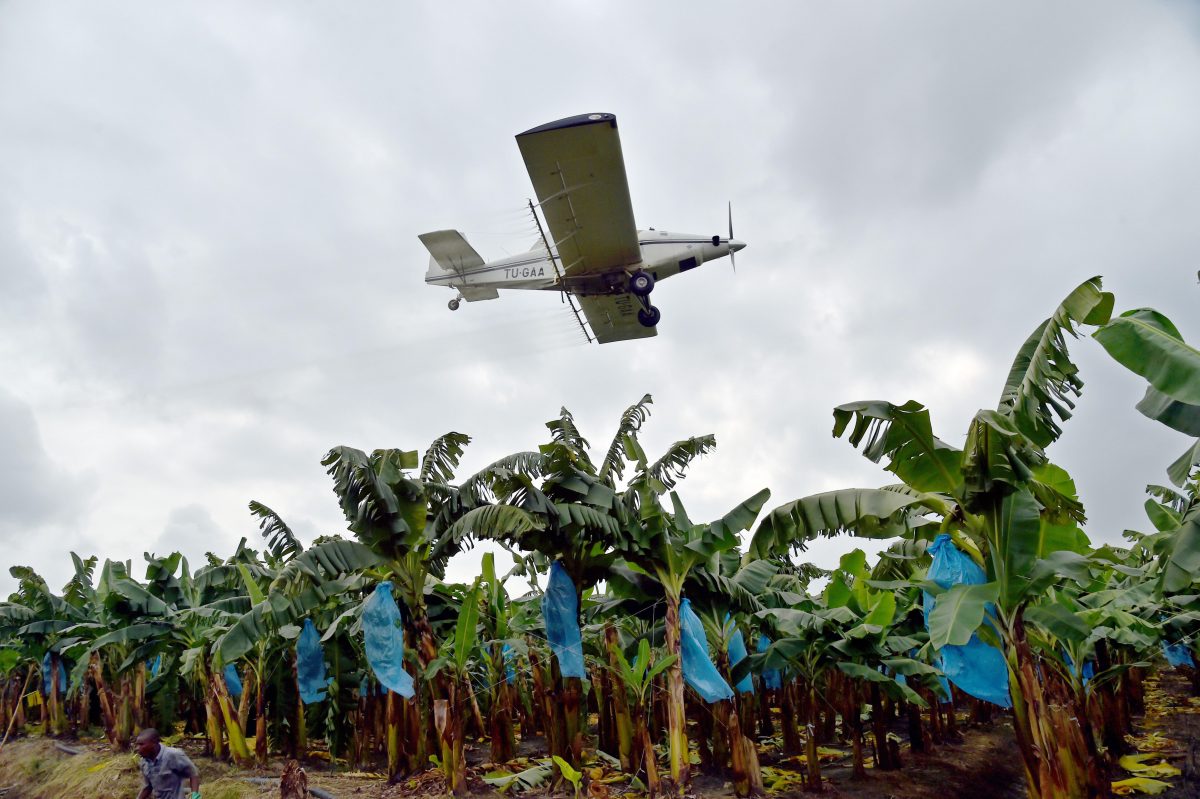 A plane sprays pesticides on a banana plantation west of Abidjan, Ivory Coast, on July 15, 2014. (Issouf Sanogo/AFP/Getty Images)
Currently, there are no known treatments for the disease.
Researchers think that the disease is spread through workers who carry the pathogen after working in contaminated fields.
Thus, scientists have been trying to develop disease-resistant banana varieties to fight the latest outbreak.
FSANZ's assessment process is expected to take around nine months and includes public consultation. After approval, Australian and New Zealand food ministers will have 60 days to review FSANZ's decision and advise whether the bananas can be sold legally.