Solidarity Can't be Blocked
Solidarity Can't be Blocked
Imagen principal: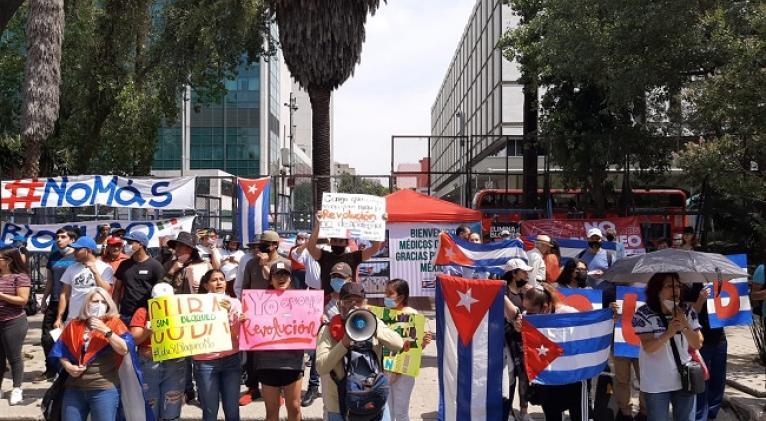 Despite the intense media campaign and also in other areas that lashes against Cuba seeking to shame it, several voices were heard last weekend in twenty countries clamoring for the eradication of the blockade, out of respect for this Island and its sovereignty.
From Miami, encouraged by #PuentesDeAmor, claims were heard in Coral Gables urging President Biden to expedite announcements on the policy towards Cuba the White House recently made.
"We want this to be the first step of many to eliminate, once and for all, the sanctions that weigh on the Cuban people", specifies the permanent demand that #PuentesDeAmor has launched, both in social networks as in several cities in the United States.
If we are speaking of the U.S. empire -because its government is one thing, and its people is another - with an active presence on social media, reports also talked about rallies in Washington DC.
In other parts of the world voices were also heard loud and clear in favor of Cuba: from Santa Cruz, in Bolivia; Milan, in Italy; Mexico City, Panama City, Bahamas, United Kingdom, Spain and Canada, among others.
From the Dominican Republic, social networks reported messages of solidarity towards Cuba generated from the capital of that country and in eight cities over that nation.
Roberto Payano, national coordinator of the Dominican Campaign for Solidarity with Cuba, told Prensa Latina that it's unfortunate that the United States United does not take into account the need to help the reunification of the Cuban family, wishing to live in peace and "we make our wishes for the reunion of Cubans.
In Cuba, hundreds of young people from Matanzas developed this weekend different initiatives to support the caravans denouncing this economic, commercial and financial blockade that only worsen with the passing of time.
With Cuban flags, the people from Matanzas walked through key points of the city, while in squares and parks of the city the cultural activities joined this day of denunciation.
Cuban President, Miguel Díaz-Canel Bermúdez, thanked on Twitter «The friends who have joined this Sunday in more than twenty cities of the world to demand the end of the #Blockade against #Cuba".
He specified that "the #PuentesDeAmor are indestructible, they reach our Island overcoming any obstacle. Solidarity can't be blocked.
Translated by Amilkal Labañino / CubaSí Translation Staff