Paralympics: Leinier Savón, redemptive performance from a towering David in Tokyo
Paralympics: Leinier Savón, redemptive performance from a towering David in Tokyo
Imagen principal: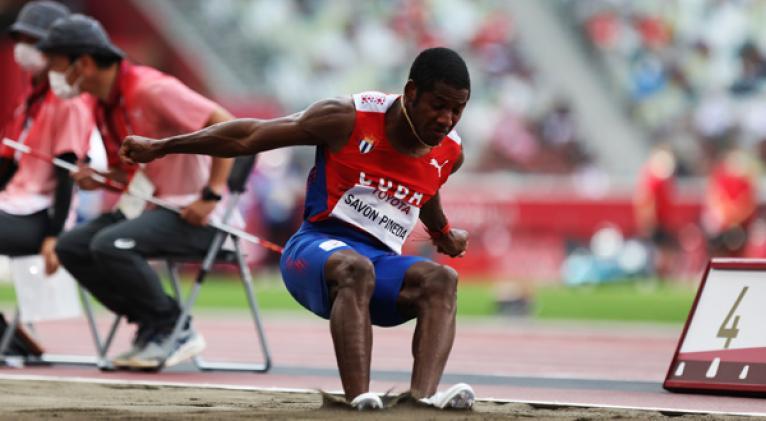 I saw him sad after his 100m race event where he froze in the start and he could not reverse the situation. He was not the Leinier Savón I know, with his usual mood. He was not the man boasting a 10.72s as his PB (Personal Best) and owned a 10.75s as SB (Season Best).
We should put ourselves in the shoes of this man —32, born in Guantánamo— or any other athlete to know the bunch of things hovering around your mind in a matter of seconds, when the starter fires the gun you have to react promptly, stand up, and then run —like a hunting cat— as if the finishing line were that horizon where you find salvation, and glory.
But redemption exists and Leinier was willing to achieve it in Tokyo. He bet everything he had on the sprint —his best asset— to jump 7.12 m in the long jump event (T-12 category) and so he earned the silver medal. This way, he gave Cuba its first medal in the Paralympics.
Anxiety was a burden already for everyone, the thousands of fans watching the TV following this Summer sports marathon and to Leinier Savón himself. Brazil, leading nation on this side of the world. Colombia, a nation that boast a great development in both conventional and disabled sports... Six days had passed and Cuba had not won any medal.
Back to Leinier, he ended runner-up after Iranian Amir Khoravani (7.21, PB). He did not commit any foul and his performance was stable. He jumped over 6.74m — with which he had ended 8th in Rio de Janeiro 2016: (6.92-6.82-6.83-7.01-7.16). He was determined to take the most out of this second chance and shake off any prior failure. He is already projecting his competition in Paris within three years, although it means for him being away from beloved two-years-old daughter.
This 5¨7 man has great courage. He is silver medalist this time, but he earned the gold medal in the 100m and 200m race in the Wonder City five years ago. His idols, Iván Pedroso and Usain Bolt, must be proud of him, as the whole nation is.
By the way, in the same event, his teammate Ángel Jiménez injured his right femoral and could only jump 6.25m for the 9th place. 
Translated by Sergio A. Paneque Díaz / CubaSí Translation Staff