Mari Machado talks with visiting parliamentary delegations
Mari Machado talks with visiting parliamentary delegations
Imagen principal: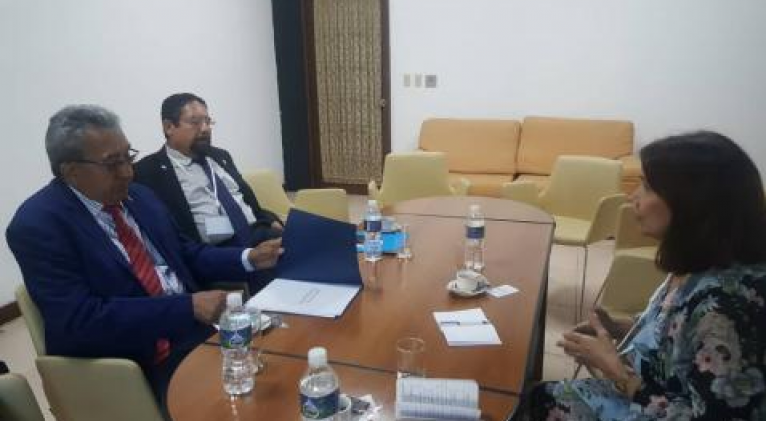 The vice president of the National Assembly of People's Power of Cuba, Ana Maria Mari Machado, exchanged with parliamentary delegations visiting the country to attend the V International Conference for the Balance of the World.
As reported by the Cuban Parliament on its website, at the Havana Convention Palace, the venue of the forum, Mari Machado held talks with representatives of the Central American Parliament (PARLACEN) and the National Assembly of Vietnam.
During the meeting of the Cuban official with the president of PARLACEN, Amado Cerrud, and the vice-president of this organism, Daniel Ortega, both parties agreed on the will to expand and strengthen the links between both legislative bodies, the text indicates.
Later, in a dialogue with Le Anh Tuan, vice president of the Foreign Relations Committee of the Vietnamese legislature, Mari Machado highlighted the historic ties of friendship and solidarity that unite both nations, forged by Fidel and Ho Chi Minh.
Likewise, the Vice President of the Cuban Parliament thanked the Asian country for its unwavering position in support of the Cuban Revolution and against the economic, commercial and financial blockade imposed by the U.S. government.
 Le Anh Tuan congratulated Cuba for the important successes achieved in recent years in foreign policy to break Washington's siege and reaffirmed his rejection of that unjust policy.
The V International Conference for the Balance of the World, held since Tuesday in Havana with representatives from 88 countries, seeks to promote dialogue on the problems facing the planet, with a plural and multidisciplinary approach in promoting joint solutions, with the contribution of intellectuals, scientists, politicians and trade unionists. (Source: ACN)