Fernando de Szyszlo: Tradition and avant-garde
Fernando de Szyszlo: Tradition and avant-garde
Imagen principal: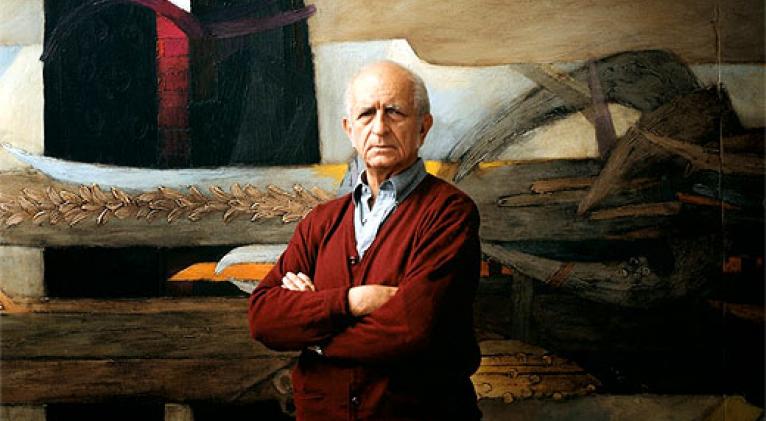 These are suggestive abstract images, ambiguous if you like, that can actually trigger several interpretations as they suggest heritage, sensibility…You can see life forms, objects, and histories in these pieces of art. They are art works that stimulate imagination and please you with their lyrical harmony of forms and colors. Visual poetry. Their author is one of the greatest Latin American artists of last century: Peruvian Fernando de Szyszlo, undisputable reference in the avant-garde movement of his nation and fundamental figure in the development of abstract art across the continent.
We are talking about an artist who is strongly committed to the cultural and historical evolution of his country, appreciably recreated in his art works. Hence the title of the exhibition which opened on Wednesday at the National Museum of Fine Arts and the Behart platform: Fernando de Szyszlo: tradición y vanguardia. Szyszlo was also an artist with great social projection. His Excellency Mr. Guido Toro Cornejo who serves as Peruvian ambassador to Cuba, in his own words in the catalog, states that Szyszlo's opinion was always heard in the public spaces of Peru as he owned a deep knowledge and had a wide variety of interests. That is why the Ambassador believes Szyszlo was the last spirit of Peruvian Renaissance.
An exhibition from the great Peruvian painter, engraver, and sculptor was not exhibited in Cuba since the 1960s. This initiative is a joint effort between the National Museum of Fine Arts and the Embassy of Peru in Cuba, with the collaboration of Casa de las Américas. It is part of the celebrations for the Bicentennial of Independence of the South American nation. More than twenty pieces of art are included in the exhibition; namely, etching, serigraphy, and lithography. All of them were created between the 1990s and the first decade of the 21st century. It is possible to enjoy art works that give us insights of his line of work. According to curator Margarita González Lorente, there are history, society, legacy of generations past, Latin American roots, research and life. Another important Cuban specialist, curator Roberto Cobas, writes in the catalog: This exhibition, modest in number but big in significance and scope, must contribute to the better understanding of one of the most significant artists of our continent.
Translated by Sergio A. Paneque Díaz / CubaSí Translation Staff