Cuban government prioritizes popular participation
Cuban government prioritizes popular participation
Imagen principal: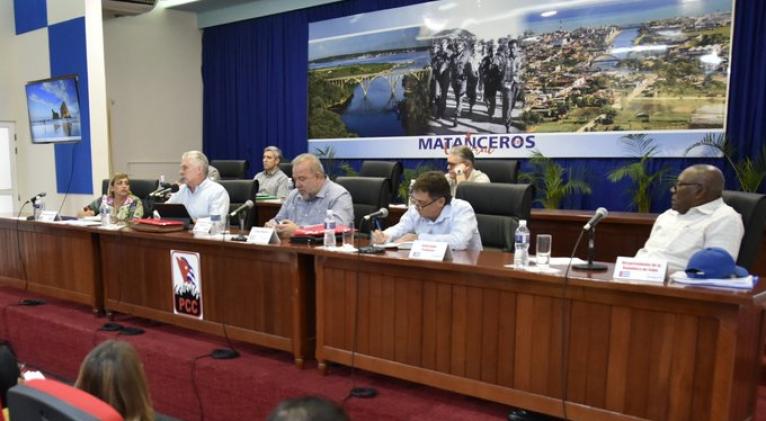 The Cuban government prioritizes popular participation in the search for solutions and decision making, it was reported this week, where government management included visits to territories and meetings with local authorities.
Cuban President Miguel Díaz-Canel led a visit of the Council of Ministers to the western province of Matanzas, where he called on leaders to get closer to the grassroots to learn about their problems and manage solutions with local potentialities.
In the university of the territory, the president advocated directing research and innovation actions towards the most pressing problems with a linkage between the various social and economic actors.
This week the also first secretary of the Communist Party of Cuba presided over a visit of the Secretariat of the Central Committee to the provinces of Santiago de Cuba and Guantánamo, in the east of the country, to evaluate the implementation of the agreements of the Eighth Congress of the political organization.
In his contacts with the top leadership and militants, the head of State insisted on the need to improve the political work with young people and develop initiatives for the resizing of neighborhoods and communities.
Similar issues were analyzed earlier this week in a meeting between Díaz-Canel and the presidents of the municipal assemblies of the People's Power, which was held via videoconference from the National Capitol, seat of the Cuban legislature.
In that meeting Esteban Lazo, head of the National Assembly of People's Power (parliament) announced that work is being done to establish a regulatory framework on community work as a tool of people's power.
During the period, the country continued its efforts to guarantee stability in the generation of electricity with maintenance works in its thermoelectric plants and saving measures, however, there were significant deficits that reached more than 500 Megawatts during peak consumption hours.
On the other hand, the Attorney General's Office informed about the results of the criminal proceedings of citizens who participated in the riots of July 11, 2021 and the sentences to five citizens accused of vexation to patriotic symbols and authorities, and public disorder, among other charges.