Cuba and India defend Global South's rights and interests
Cuba and India defend Global South's rights and interests
Imagen principal: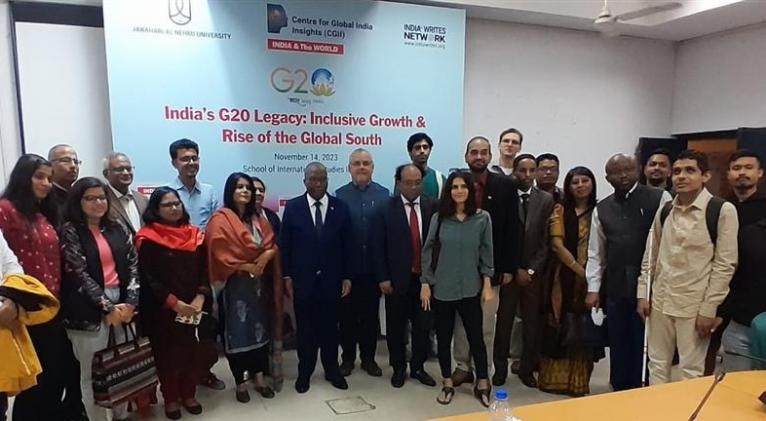 Cuba and India agree on their commitment to the rights and interests of the Global South in the face of the challenges that mainly affect developing countries, Cuban Ambassador Alejandro Simancas said in this capital on Tuesday.
In the panel "Legacy of India's G20: Inclusive Growth and Rise of the Global South", the Cuban diplomat assured that a principle for Cuba is to defend an equitable and inclusive development for those nations and highlighted the Cuban international medical cooperation as one of its leading expressions.
Invited to the meeting representing Cuba, the country that chairs the G77+China, Simancas pointed out that this bloc, consisting of 135 countries, represents the South nations. The high-level meeting held in Havana on September 15-16, just one week after the G20 Summit in India, showed the importance of a permanent exchange with those nations, the ambassador told diplomats from India, South Africa, and Eritrea, as well as students from the School of International Studies at Jawaharlal Nehru University in New Delhi.
Simancas stressed that more than 1,300 participants from 116 countries, including 31 heads of State and Government and 12 vice presidents, met in Havana, the capital of Cuba, to discuss the challenges facing the southern countries and urged concrete actions against the consequences of the current unjust international economic order.
He pointed out that the Declaration of the Havana Summit shows the importance of strengthening South-South cooperation and stressed the need for urgent reform of the international financial architecture to achieve equitable access to the necessary resources in line with the Sustainable Development Goals.
The Cuban diplomat highlighted the powerful condemnation expressed at the Havana meeting of the unilateral coercive measures taken against the group's several members, which violates International Law and the United Nations Charter.
The Cuban ambassador noted that only the United States and Israel are against the international demand to end that economic war of more than 60 years against Cuba, which has been tightened since 2019.
Only from March 1, 2022, to February 28, 2023, the damages caused by the blockade have been estimated at 4.867 billion dollars.